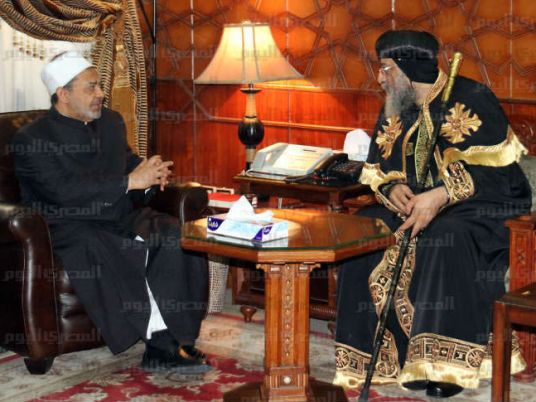 Azhar's Grand Sheikh Ahmed al-Tayyeb visited on Sunday morning the St. Mark Coptic Orthodox Cathedral in Abbassiya for Easter.
Tayyeb met Pope Tawadros II, Pope of Alexandria and Patriarch of the See of St. Mark, and wished him a blessed Easter.
Tawadros welcomed Tayyeb and his accompanying delegation to the cathedral, saying that the visit reflects love, affection and the bond between him and Al-Azhar Grand Sheikh.
Egypt's Grand Mufti Shawki Allam and Minister of Religious Endowments Mokhtar Gomaa visited St. Mark Coptic Orthodox Cathedral to express Easter wishes and greetings to the Pope.
Pope Tawadros II on Sunday received high dignitaries and officials of the state to extend greetings for Easter at the papal headquarters in the Cathedral of St. Mark in Abbassiya.