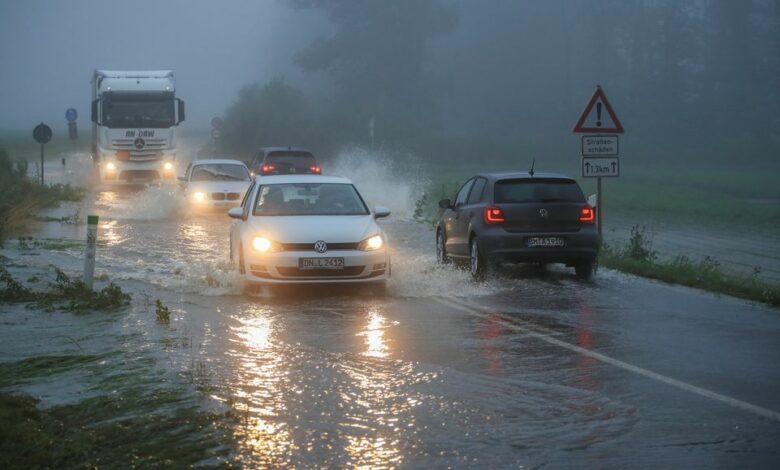 The Egyptian Meteorological Authority warned citizens across the country, including Alexandria, Matrouh, Kafr el-Sheikh, Port Said, Cairo, and Giza, of heavy rains and strong winds on Monday, which will extend to Tuesday in some areas.
EMA said that this spree of bad weather will continue for another 24 hours.
It will be accompanied by strong winds that will plow up dust and sand, with frost cover in some areas and temperatures two degrees below zero.
Rain will fall in 15 governorates with occasional thunder.
Water accumulation places in Cairo
  -Eastern Area
The entrance and end of Fardous Bridge
Salah Salem
Beginning and end of Tayaran Bridge, to Cairo Airport direction
The entrance and end of Abdel Razek Al-Sanhoury Bridge
Al-Nasr Road in front of the podium
Al-Nasr Road intersection with Abbas Al-Akkad
The entrance and end of al-Fangary Bridge
El-Sallab Bridge
Mostafa El-Nahhas St., with Makram Ebeid
Ain Shams St., in front of Al-Tawheed Wal Noor
Ain Shams St. with Ali Pasha Al-Laly St
Roxy Square
Under Abdel Hamid Badawy Bridge
Al-Salam Tunnel
Entrance and end of Herafeen Bridge
Joseph Tito axis
Axis of a million trees
Martyr's axis
The Northern Area:
Shubra st with Shokalany st
Ahmed Badawy Tunnel
The entrance of October Bridge from Ahmed Badawy and Manzil
Abu Hashish Tunnel
The beginning of al-Qobba Bridge
Rod Al-Farag axis
Abboud Tunnel
Abu Wafia Bridge end
-Western Area:
Al-Azhar tunnel end from Salah Salem
Entrance of October Bridge from Ramses and Abdel Moneim Riad Square
The End and entrance to al-Qolali Tunnel
Mohamed Farid Square
Port Said St., in front of the Security Directorate
Bab Al-Shaeria Square
Al-Azhar St
–Southern area:
The end and beginning of Asher Bridge
The house and the beginning of the Alabajia Bridge
The end and entrance of the Sayeda Aisha Bridge
Beginning of Salah Salem to Mokattam
The entrance and end of Tonsy bridge
Nile Corniche, below the Ring Road
International Salam Bridge
Abbas Bridge
Foum Al-Khaleej Square
Religions Complex
Al-Abtal Club
Saraya Square
At the Constitutional Court
Kotsika Bridge end
In front Of Helwan University
In front of Helwan metro station
Zahraa al-Maadi in front of Khair Zaman Supermarket
Magra Al-Ouon
Alexandria will see some of heaviest winds and rains, with continued hail in some areas such as Al-Manshiyya and Al-Nabi Daniel Street, in addition to a very noticeable drop in temperatures.
The corniche witnessed a sharp rise in the waves, and Alexandria governorate is witnessing unstable weather conditions, with heavy rain intermittently throughout the coastal city, in light of the sea waves rising to about 4-5 meters in some areas.
Monday's rains are expected to be of varying intensity over more than half of Egypt's governorates.
Unstable weather prevails from the north of the country to northern Upper Egypt, and winds will be active, blowing up to sand and dust.
The weather will be very cold at night in all parts of the country, and snow is formed on the heights of Sinai, while it is cold during the day in Cairo and Alexandria and extends to northern Upper Egypt and the eastern coasts, while cold weather prevails on the western coasts.
Edited translation from Al-Masry Al-Youm