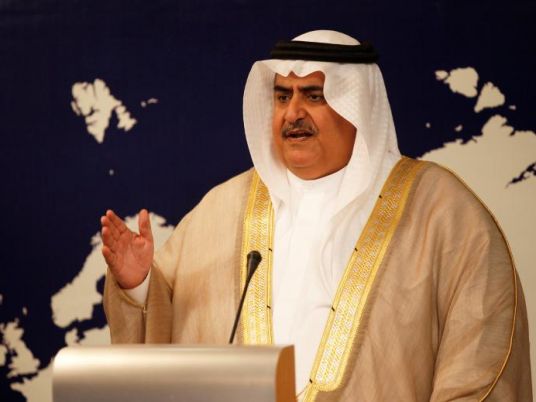 Bahrain's foreign minister said on Tuesday that US President Donald Trump understood the region and the threats posed by their common adversary Iran better than Barack Obama.
Speaking in an interview with Reuters at his office in the capital Manama, Sheikh Khaled bin Ahmed al-Khalifa said the staunch US Gulf ally was confident the new administration would soon clarify its stances on foreign policy.
The Sunni-ruled kingdom accuses Iran, a Shia theocracy across the Gulf, of radicalizing and arming some members of its Shia Muslim majority population, and Gulf monarchies say Obama did not do enough to tackle perceived meddling by Iran in Bahrain and in wars raging throughout the region.
Tehran denies any meddling in the island kingdom.
Trump has pledged to deal forcefully with the Islamic Republic and criticized a landmark international deal to curb its nuclear program inked under Obama in 2015 as a concession to a state the United States considers a sponsor of terrorism.
"We see … a much clearer understanding from the White House of the threats we are facing here in the region and especially the ones that are coming from the Islamic Republic," Sheikh Khaled said.
"The last few years, there was a policy that we think it was better for them to correct, and we advised them it should be corrected."
Sheikh Khaled last month met US Secretary of State Rex Tillerson in Washington and Bahrain's King Hamad bin Isa al-Khalifa has spoken by telephone with senior US officials, including Trump after his election in November.
Sitting astride one of the world's key oil shipping lanes, Bahrain is a key ally of Sunni powerhouse Saudi Arabia and hosts the US Navy's Fifth Fleet.
Neither country were among the ban Trump is seeking to impose on travelers from Iran and five other Muslim-majority nations in the Middle East and Africa.
Some critics of the Trump administration fear it is prioritizing the fight against militancy and Iran over promoting human rights among American allies, but the foreign minister said the US shift acknowledged the region's harsh realities.
"CLARITY IS COMING"
Sheikh Khaled said his country welcomed a decision by the White House to pursue a $5 billion sale to Bahrain of 19 Lockheed Martin F-16 aircraft and related equipment which was held up last year by concerns about human rights.
He said Trump's style may have distracted some from the merits of his views, but all administrations had growing pains.
"They'll get in order … every new administration will always start in a way that will seem unclear, but clarity is coming," he said, speaking in his green and wood-panelled office adorned with pictures of past and present Bahraini monarchs.
"Maybe when you see the difference in the personality of the president, maybe that's kind of giving an overwhelming picture of the situation. Things are working in America."
Since 2011 Arab Spring protests led by Bahrain's Shi'ites were crushed with the help from some Gulf Arab states, Bahrain says Iran has stepped up a campaign to undermine security there and bring about the downfall of the ruling al-Khalifa family, of which Sheikh Khaled is a member.
"It's a whole project we are facing and it will not stop until this regime changes its course from the way it is now – hegemonic, theocratic, theo-fascist – to a regime that would answer the aspirations of its own people."
"Until that moment we will have to defend ourselves."
Human rights organizations have criticized an escalating government crackdown since the main Shi'ite opposition bloc was shuttered last year, several prominent activist were arrested and the top Shi'ite spiritual leader had his citizenship revoked on corruption charges.
Bahrain says it has acted to reform its security services and that it genuinely seeks dialogue with the opposition in a way that is rare in the mostly closed and authoritarian region.
"We feel like we are being pressured and punished for no reason, just for sticking our neck out and addressing issues that every country has," Sheikh Khaled said.