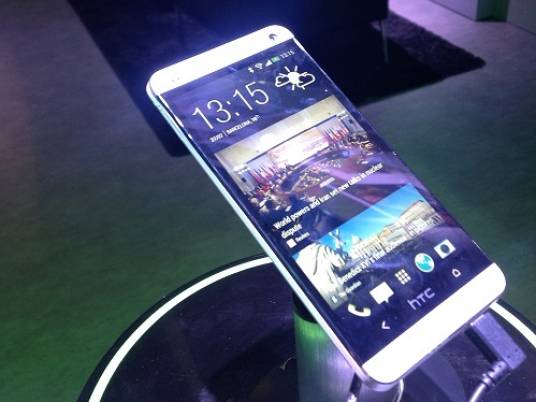 BARCELONA — The HTC One made a splash at this year's Mobile World Congress, walking away with the coveted best in show award.
The sleek smartphone, which also won best new mobile handset, is designed with an all-metal, zero-gap construction and boasts a vibrant 4.7-inch, high-definition screen. It can be used as a remote control via the SenseTV app, which employs universal remote software, and also features BoomSound that thumps out of dual frontal speakers with built-in amplifiers.
Competing with a number of impressive products such as the Sony Xperia Z (which is waterproof), the Samsung Galaxy Grand (with a five-inch screen) and the Nokia Lumia 720 (great for music lovers), the HTC took the top prize also due to its dynamic booth.
The Sony Xperia Z was a close second, and its tablet with the same name ended up with the best tablet award, while the Samsung Galaxy S3 won best smartphone.
Constantly buzzing with curious onlookers and spectators of a rolling performance of a minimalist acrobatic show, HTC's display was meant to entice passers-by to drop in, snap some pictures and take a few seconds of video with the devices on display, all to show off the smartphone's unique imaging features.
The device features HTC Zoe, which enables the camera to capture several sequence shots as well as a short video. This allows users to retouch and edit parts of an image to, for example, remove unwanted objects or capture that second in a photo sequence when that one person in a group photo who always has their eyes closed actually had them open.
Away from the show floor, where companies vied for attention, was a conference where industry insiders discussed the dynamic future of mobile technology.
This is where experts discussed and exchanged their vision for what's yet to come, offering a sneak peek into the features and technology that the world's more than 3 billion mobile users can look forward to in the years ahead.
The expansive show grounds at Barcelona's Fira Gran Via, newly built specifically for this global event, sprawl over 240,000 square meters, just enough to host the more than 70,000 people the conference attracted this year alone.
Eight halls comprised the show floor, and several auditoriums hosted a series of rolling seminars, conference sessions and product launches, while scenic spaces provided venues for deal making and networking.
There was an overwhelming amount of activity happening simultaneously, so the conference could be disorienting at times. But its animation was an appropriate microcosm of the industry's blistering pace of development.
Enhanced experiences
The near future of mobile technology, industry insiders have decided, lies in what they call the "connected life." While the phrase may be self-explanatory, the technological developments happening in the background to realize this vision are dizzying and astounding to the un-initiated.
For a non-techie like this writer — who still marvels at the advent of rotating screens — the products and futuristic capabilities on display were a huge learning experience, especially when speaking to the people whose very business is developing this technology.
Besides the usual suspects in the field of mobile technology, and in the conspicuous absence of Apple and Blackberry — which have seemingly deemed themselves too big or too good for this trade show — there were also automobile manufacturers, robotics specialists, health companies, content providers, financial services companies, and so on.
What this broad representation signified was the — and here comes a buzzword — ubiquity of mobile connectivity.
Ubiquity, a word heard repeatedly throughout the conference sessions, is where mobile technology is heading. It's what will make your life ultra-connected through your mobile device, and that includes your home, office, car, television, coffeemaker, health monitors, shopping experience, and so on.
As one omnipresent company cleverly called it, this is the "Internet of everything." This company is none other than Qualcomm, whose forward-looking technological development powers much of the mobile devices used today.
The San Diego-based company designs, manufactures and markets digital wireless telecommunications products and services. Regionally, it has offices in Johannesburg, Nairobi and Lagos, as well as Cairo and Dubai.
Qualcomm is arguably an industry leader, though consumers may be unaware of the breadth of its activities, which aim to enable mobile devices to be each user's "digital sixth sense."
The latest generation of the company's notable Snapdragon processor can be found in many of the award-winning mobile devices on display at MWC. The HTC One, for example, is run on the Qualcomm Snapdragon 600, powering its speed, sound and imaging features.
In an interview with Egypt Independent, Tim McDonough, Qualcomm's vice president of marketing, says, "What's really interesting about Snapdragon is how quickly it's improving."
Due to this rapid development, the company changed the processor's brand tiering to help consumers decide what's better without confusing them with technical jargon.
"We started growing so quickly along with the global market for smartphones that we had this generational brand architecture, and suddenly there were 25 chips in it, ranging from the super affordable phone-type chip, all the way up to the latest and greatest smartphone chip," McDonough says.
The Snapdragon chips are now tiered as 200, 400, 600 and 800, and will remain the same every year as the chips within them change.
The Snapdragon 800 is the highest-end chip and is due out in phones in the second half of the current calendar year.
"It can run a high-end smartphone, and android tablet, Windows if you want it to, a computer or a smart TV. It's very highly capable," says McDonough.
What this means for users is "super-fast connectivity, processor and graphics — it's all a really fluid experience," he says.
And this is all powered by the built-in 802.11AC Wi-Fi, which is the next level of speed, the next generation of long-term evolution, or LTE, with 3G modes as well. One of the demo stations at the Qualcomm booth showed off how Snapdragon allows users to encode and decode HD video.
"They're taking HD video and actually editing it and scrubbing across it, and putting in titles. On a computer that would be an extremely slow process," he says.
Soon, consumers will be able to capture HD quality video with their smartphones.
"Gaming is pretty phenomenal on it too. Games that would run on a console are now on smartphones," says McDonough.
At a Snapdragon 800 Theater set up at the booth, attendees lined up outside the door to get a preview of the chip's sound and image quality.
The Ultra HD quality video playing off a smartphone makes the vibrant colors and sharp images jump off the screen. The processor also features "HD multichannel audio with DTS-HD and Dolby Digital Plus."
What this means in layman's terms is vivid surround sound that tops most cinema experiences. In the demo, the premier audio quality was played off surround sound speakers. Then, the same quality sound was played through headphones.
Following the demonstration, the Qualcomm executive asked attendees, "You don't believe that we turned off the speakers, do you?"
Everyone in the audience replied, "No."
The audio was played again and, in an almost choreographed move, those present took their headphones on and off to check that the sound was not, in fact, coming from the speakers.
It is these kind of user experiences that McDonough says Qualcomm processors are meant to enhance. "People don't buy phones for the specs, they buy phones because they can do things that their other phone couldn't," he says. "Taking video in Ultra HD, or being able to refocus a photo after you've taken it — those are experiences."
And that's precisely why the marketing trend in the industry is seeing a shift to focusing on user experiences.
"You'll see Qualcomm do less specs-based marketing and try to talk more about experiences so that when consumers shop for a phone, it's less overwhelming," he adds.
Machine to machine
From there, the technology is moving toward enabling what's called machine-to-machine communication, which will come through the ability of devices to connect.
"Your smartphone and tablet are … really driving the rest of the devices in your house," McDonough says. "It will revolutionize automotives, TV and computers."
This is where the concept of a digital sixth sense comes in, and it stems from the idea of the interoperability of different devices and machines.
"A smartphone is what you carry with you most, so it's the perfect device to start connecting to everything else in your house or in your car or office," he says. "You'll see us taking some of the technologies sitting in phones, sort of breaking them out and putting them in other devices."
Once connectivity is enabled, consumers will be able to use their smartphone, for example, to time their coffeemaker to start brewing a certain number of cups of coffee once their alarm, which is also connected, goes off.
While those things are more dispensable, something like a power reader needs future proofing so that it can keep up with developments of networks.
"Historically, a lot of M2M stuff has been over 2G, which is going away. What we're using at Qualcomm will support 2G, all flavors of 3G and 4G, including LTE, so the lifespan is long," he says.
Once something is connected, what you can do with it makes all the difference.
An LTE network connected to a Snapdragon processor in the car, for example, will allow drivers to stream high-quality video and push it so passengers in the backseat watch on the headrest screens while the front screen shows real-time maps with traffic overlay. It can stream audio from Spotify, for example.
"It can do things that are more future-interesting, such as have a camera above the steering wheel and when the authorized driver of that car gets in, there's facial recognition that unlocks things for them. So your young kids can't start the car, nor can someone who steals your keys," says McDonough.
While some of this is about entertainment and convenience value, other features focus on safety.
The processor can also recognize if a driver's eyes are closed, McDonough explains, and if they are for more than a couple seconds, it can determine that the driver might be asleep.
He says the feature can then wake up the driver by making the music louder, for example. It can also warn drivers of an obstacle behind the car that they might not see.
"When you get into this interoperability and this digital sixth sense space … the car or TV can become a really big smartphone," he says.
This piece was originally published in Egypt Independent's weekly print edition.