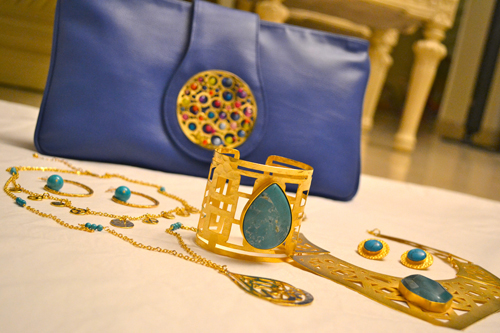 Local jewelry and accessories have grown in popularity in the past few years, with homegrown designers honing their skills and working their magic. For Tash and Mandolini, copper and silver, plated in gold, have proven to be the perfect materials for creating stunning but reasonably priced jewelry. Using semiprecious stones and gems, these two young designers have come up with winter collections that are colorful and bold.
Mandolini: Egyptian copper welded with an Italian touch
Gold-plated copper accessories have made a comeback in the world of jewelry in the last few years, with the shiny pieces of art combining both affordability and beauty. Mandolini Accessories recently launched a new winter collection of gold-plated copper adornments.
The collection is elegant and original; the shiny yellow layer of gold contrasts with a variety of semiprecious stones in vibrant colors. The merge of colors is energetic — dark green, turquoise, royal blue and pearl white are among the mixes available.
Large, dangling earrings and fusions of colors and shapes, geometrical and organic, are the collection's strong points, while large and medium-sized plain hammered bangles are the main attraction. Mandolini's winter pair is the amethyst snake ring with its matching earrings.
Semiprecious stones such as onyx, ruby, emerald, aquamarine and turquoise are the main stones of the season, and although the entire collection is new and beautiful, a golden butterfly necklace with dangling onyx stones stood out, with its delicate lines and its intertwined yet precise design.
Designer Nathalie Azar launched her first Mandolini collection three years ago.
"Joining the online boutique, Style Treasure, last November gave my first collection the viewers and push it needed," says the designer, who is half-Italian. Azar says most materials used in her designs are 100 percent Egyptian, except for some rare semiprecious stones, usually imported from India or Turkey.
"Egyptian workmanship is the best worldwide, but unfortunately, we have become lazy," she says, pointing out the challenges in the field.
Other than the online boutique, the young designer displays her work at Royal Nails in both Heliopolis and Maadi. Mandolini is also a regular exhibitor in fashion bazaars around the city.
"The economic state of the country is not encouraging for small businesses, and opening a boutique or a small store for accessories would be the wrong step now," says Azar, pointing out the benefits of fashion bazaars. "I dream of turning Mandolini into a fashion house, but, for the moment, I am sticking to accessories."
Being an Egyptian with Italian, Polish and Lebanese blood has pushed Azar to combine her heritage with a European touch.
Hammered copper is the signature feature of her winter collection, the jeweler says. Despite elegant taste and unique designs, the prices are affordable to many, ranging between LE180 and LE300.
The collection includes 31 pieces, including rings, necklaces, earrings and cuffs.
For more information, visit the Mandolini Facebook page at facebook.com/groups/mandoliniaccessories or www.style-treasure.com.
A blend of styles: Tash launches its colorful winter collection
With intertwined cords, chains of gold-hugging turquoise tear drops and pearls of all colors and shapes, Tash's new collection is a blend of tastes, shapes and colors. It mixes Oriental touches with Islamic, Roman and pharaonic shapes.
Tash's pieces are mostly gold-plated silver.
"Only the big and heavy designs are made of copper, then given a layer of gold," says Celine Antaki, co-founder of Tash Jewelry.
The collection this winter is contrasting and rich; the tear drop shape seems to dominate the collection. The collection features a two-layered chain with a "Masha'Allah" pendant and dangling pieces of aquamarine and other colored gems. Other designs mix gold chains with turquoise and pearls.
Aside from the delicate curves of the pendants, Tash's collection features symmetrical geometrical shapes in necklaces and cuffs while mixing bright gold with the depth of the turquoise, a blend found often in pharaonic jewelry.
Charms also appeared in the new winter collection. Fatimah's hand and 25-piaster coins appear in earrings, alongside peace signs in pendants. Like Mandolini, hammered pieces seem to dominate the collection, which gives the pieces an edge and breaks the extra shine of the golden ornaments.
"This season's collection mixes Oriental with funky," says Antaki.
The cord chandelier earring is definitely Roman-inspired; the tangled hammered cords create three circular shapes with a tear drop hanging from them. The LE550 earring is unique and simple. The double-hoop earring is also a hit; it is simple yet elegant and can be worn on almost every occasion.
Pieces range between LE300 to LE1,000, and special orders are also possible, just in case you're looking for an old piece from a previous collection, for example. Each collection contains about 20 to 30 pieces.
"We have a new collection every two months, as people get bored pretty easily and the accessories market has a lot to offer," explains Antaki, the daughter of fashion guru Paul Antaki.
The young designer says she looks up to her father and always goes back to him for advice.
Tash is the creation of both Celine and Tina Antaki.
"We founded Tash three years ago," says Celine Antaki, who goes on to say it all started with a simple beaded bracelet called "Enta Omry," or "You Are My Life."
"Tina posted it on Facebook and it sold like crazy," she says. The final product is 100 percent Egyptian, she says, except for certain types of gems that can only be purchased abroad.
Tash's jewelry is available in the Mounaya concept store in Zamalek, by Hebz Store, in addition to Tash's Facebook page. The jeweler also displays the collection on Style Treasure, the online boutique.
"We are slowly but surely targeting the international market," says Antaki.
For more information, visit www.style-treasure.com, or the Tash Facebook page.
This piece was originally published in Egypt Independent's weekly print edition.