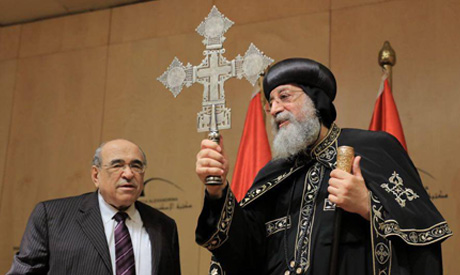 Bibliotheca Alexandrina Director Mustafa El-Feki hosted Pope Tawadros II on Saturday at the library in Alexandria where the two institution heads discussed means of cooperation between the church and the library, most notably discussing the creation of a "religions museum" in the library, a statement by the Bibliotheca read.
The museum would aim to combine artifacts from all eras of Egyptian history, including the Pharaonic, Greek, Roman Jewish, Coptic, and Islamic.
As for Egypt's Christian history, Tawadros II announced that the museum will be presenting the first seven centuries of the religion's history in the country in addition to a history of the monasteries.
El Feki told Egypt Independent the project represents a strong step towards supporting the Egyptian image across the world. "It is a message of peace from the Egyptian people to the world, that Egypt has always accepted different religions."
He went on to say that the project sends a message to terrorists: "The project is also the strongest response to terrorism, that Egypt is a stable country that celebrates all the religions in its history."
The initiative will offer Egyptians a unique opportunity to learn about their history in a way that "reflects the real face of Egypt."
As for the next step towards implementing the project, El-Fiky said, "we will be receiving a building from the governorate, then an Egyptian team of experts will cooperate with international experts to convert the place and its surrounding area to an international monument that will help push tourism in Egypt."
The Bibliotheca Alexandrina and the Church have in the past executed several successful joint projects, including the Center for Coptic Studies and a continuing project to restore Coptic manuscripts.
While Egypt has never had a museum combining different religions before, several temporary exhibits with religious themes have been organized over the years.
In January 2017, "Egypt, The Cradle of Religions" exhibit was inaugurated at the Egyptian Museum at Tahrir Square and in May 2015, an exhibit entitled "One God, Three Religions", was inaugurated there as well.