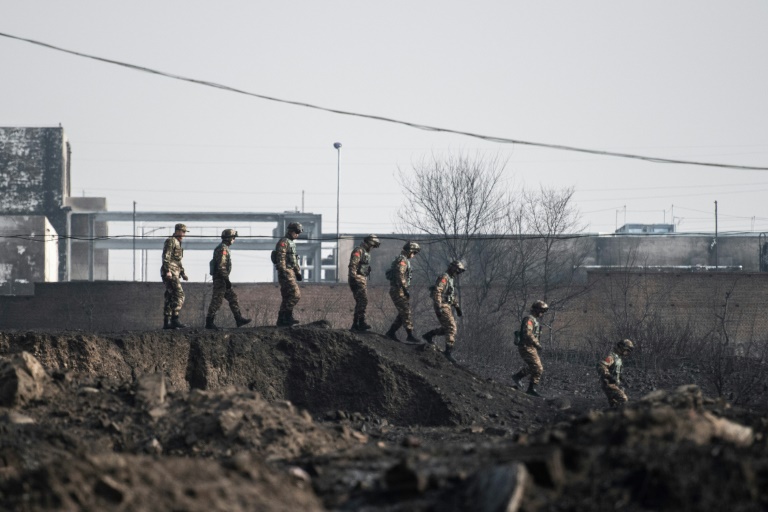 A vehicle carrying dangerous chemicals exploded at the entrance of a chemical factory in a northern Chinese city that will host the 2022 Winter Olympics Wednesday, leaving 22 people dead and 22 others injured, state media and authorities said.
The blast ignited other vehicles, leaving charred and smoking remains of trucks and cars scattered on a road as firefighters worked at the scene, according to images posted online by state media.
A witness told AFP he heard a "very loud bang" after midnight and saw a field and trucks engulfed in flames outside the Hebei Shenghua Chemical Co. factory in Zhangjiakou, a city some 200 kilometres (124 miles) northwest of Beijing.
The side of a building was covered in soot in front of a row of burnt out trucks across the road, footage broadcast by CCTV showed following the latest deadly incident to hit a factory in China.
The blast damaged 38 trucks and 12 cars, the local propaganda department said on its Twitter-like Weibo social media account.
The injured were taken to hospitals for treatment following the blast at 00:41 am, according to the department.
The factory's and exterior archway were blackened. Across from the blast, AFP reporters saw a field of blackened grass and trees, with smoke billowing from the embers. Heavy machinery was brought in to remove debris.
According to a preliminary investigation, a vehicle carrying dangerous chemicals blew up while waiting to enter the plant, igniting nearby vehicles, according to the official Xinhua news agency. CCTV described the vehicle as a tanker.
Rescue efforts and the investigation are still underway, Xinhua said.
'A fireball'
"It was after midnight when I put down my phone to go to bed when I heard a very loud bang, followed by a few more," said a man named Zhang who works in another chemical factory some 200 meters away from the blast site.
"There was a shaking and two pieces of the ceiling fell. I thought it was an earthquake so I hid under a bed for a while," he said.
"When I looked out of the window I saw a large fireball sweep across the area," said Zhang, whose car was singed.
He awoke others in his dormitory and they ran to safety.
"Even the grass outside our factory was on fire, so we quickly put it out," he said.
Beijing is hosting the 2022 Winter Games, with some of the mountain sport competitions taking place on the outskirts of Zhangjiakou.
The explosion occurred in the city's Qiaodong district. Snowboard, cross-country skiing and freestyle skiing events will be held some 45 minutes away in Chongli.
Industrial, road accidents
Road and industrial accidents are common in China.
A blast at a chemical plant in southwest Sichuan province left 19 dead and 12 injured in July. The company had undertaken illegal construction that had not passed safety checks, according to local authorities.
In 2015, giant chemical blasts in a container storage facility killed at least 165 people in the northern port city of Tianjin.
The explosions caused more than $1 billion in damage and sparked widespread anger at a perceived lack of transparency over the accident's causes and its environmental impact.