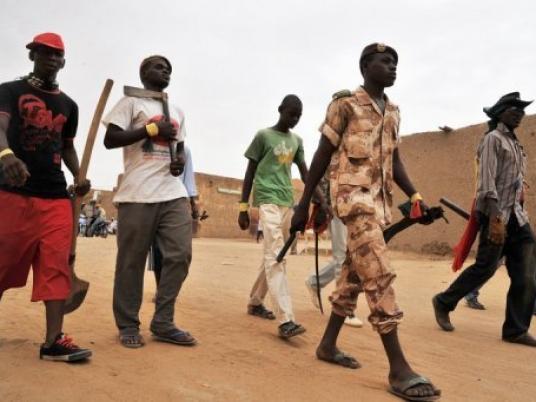 PARIS — France is keeping a tight lid on media reporting on the conflict in northern Mali, where foreign journalists there to cover the fighting have been kept away from the frontline.
More than two weeks into the assault on Islamist fighters spearheaded by French special forces, the few images of the battlegrounds that have emerged from a virtual media blackout were provided by the French army.
"The French and Malian military authorities want to keep journalists away from the combat zone," said Ambroise Pierre of Paris-based media advocates Reporters Without Borders.
This, he acknowledges, is nothing unusual.
"In armed conflicts, keeping journalists at a distance is more the rule than the exception," he said.
But, he added, France appeared to be taking fewer journalists embedded with its troops than usual.
Officials close to French Defence Minister Jean-Yves Le Drian say that 150 journalists from 40 different news organisations have been travelling with French troops for the last 10 days.
Every day, the defence ministry has been sending fresh images and video to reporters, ministry officials say.
But reporting restrictions are tighter in Mali than in Afghanistan, where French forces also served, says AFP correspondent Marc Bastian.
"Over there, the French army let us get to the combat zone," he said.
In Mali, "it is the French special forces who are on the frontline, clearing the way and carrying out reconnaissance missions," he added.
Journalists cannot get closer than 100 kilometers (60 miles) to the fighting in Mali, according to Reporters Without Borders.
For Pierre Grange, a veteran correspondent with French television channel TF1, one factor complicating the situation is that French television is broadcast in Mali, a former French colony.
"The army doesn't want to give information that could help the other side," he said.
Malian troops have also tried to hinder journalists trying to move across Mali's vast desert north –– an area twice the size of France –– by putting roadblocks in place.
"The Malian army has taken it badly that we have reported witness accounts accusing them of abuses," said Grange.
At a hotel taken over by foreign reporters in Sevare, on the edge of the combat zone around 630 kilometers north of the capital Bamako, Spanish freelancer Jose Navarro told how he and other media were cleared for a brief visit to the central town of Konna.
"The officer told us it was 'a guided visit' and that there were certain things that we couldn't see," he said.
Konna was the first town to be recaptured from Islamists by French and Malian soldiers at the start of their joint offensive on 11 January, and suffered heavy casualties from French airstrikes.
"The people of Konna told us dozens of people had died in the fighting. But a week later, we had had no clear information," Navarro added.
Mali's authorities say the roadblocks are needed because of the risk that journalists could be abducted or killed by Islamist fighters.
France's foreign ministry has already urged journalists in the country to respect the security instructions they are given.
But Reporters Without Borders says only journalists themselves can decide what risks to take, and that they must be allowed to do their jobs.
"In war time, it is up to journalists and their news organizations, not the military, to determine the risk they are prepared to take in order to gather information," said a statement from the organization.
Outside Mopti, a town 720 kilometers southwest of the fabled desert city of Timbuktu –– which French-led troops had surrounded Monday –– one Malian officer insisted that the zone was not yet safe enough.
"Security is our duty," Colonel Amadou Diarra told journalists frustrated at being kept far from the fighting on Sunday.
"Isolated action, suicide attacks can happen … A disguised individual with explosives can do anything.
"The movement of journalists will be done gradually, as we advance," he said. "We have nothing to hide."