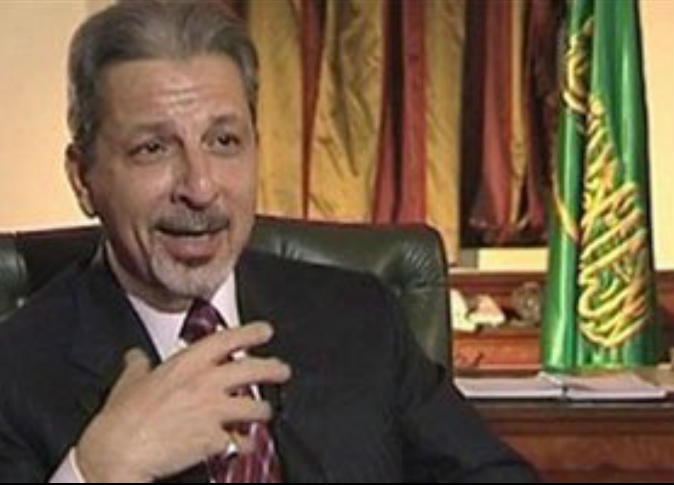 An initially-denied sharp exchange between Saudi Arabia's Ambassador in Cairo Ahmed Qattan and the board chairman of Egypt's state-run Al-Ahram newspaper Ahmed al-Sayyed al-Naggar has been confirmed, with the pair having reportedly engaged in a political argument that ended with each throwing water at the other.
Journalist Mostafa Bakry said the incident took place during a dinner at the residence of Algeria's ambassador in Cairo, Nazir al-Arabawi, which he personally attended more than a week ago.
Bakry, in his show on Sada el-Balad channel last week, said "Naggar had blamed Saudi Arabia for the civil conflict in Syria and Yemen as well as suppressing popular revolts in Bahrain, whereby the kingdom's ambassador spoke about the role Iran played in Iraq and Yemen."
Bakry added that the argument heated up before the pair "fought and threw water at each other".
A day after the incident, Qattan left Cairo for London, but denied that his departure was linked to the incident, saying he was on a "private work mission", and declined to comment on the alleged brawl.
Naggar also admitted to the event in an interview with the Algerian channel Ennahar a few days ago. "I was defending the dignity of my country and Al-Ahram foundation," he told his interviewer without giving further details.
As a presumed consequence of the altercation, Saudi Arabia banned two reporters from Al-Ahram from covering a conference in its capital Riyadh, reported the London-based Rai AlYoum a week ago.
Some observers, however, had attributed the disagreement between the pair to Al-Ahram's critical reporting of Saudi Arabia's policies on Syria and Yemen. They said an interview by Al-Ahram with Bashar Al-Assad's Foreign Minister Walid al-Moallem, his first with an Egyptian newspaper, was also a factor, especially given that he had lauded the role played by Iran, Saudi Arabia's arch regional foe, in Syria.
Egypt and Saudi Arabia's foreign ministers have recently denied bilateral disagreements on Syria. While Saudi Arabia has acted as the most vocal advocate of the departure of Syrian President Bashar al-Assad, Egypt has not exhibited an equal degree of enthusiasm for the idea, rather pushing for a compromise in line with its major arms supplier and primary Assad ally, Russia.
Edited translation from Al-Masry Al-Youm