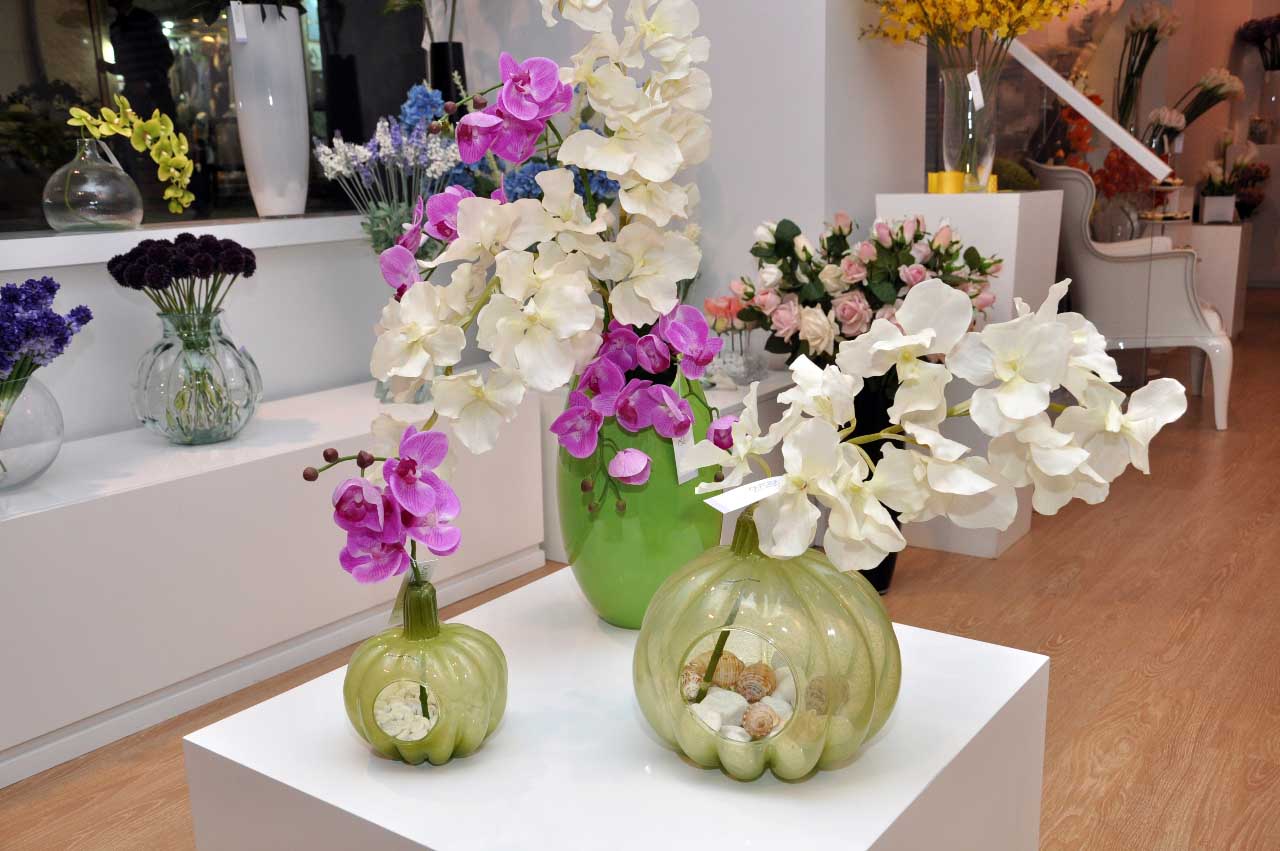 The exquisite array of flowers, reflecting a spectrum of colors on the glass shop front of Outside In draws you inside to discover the newest "floral gallery" in the country.
"I see people stop by and smile as they look at the blooming flowers, and that is the effect I believe flowers could have on people," says Khaled al-Wakil, the owner of the Nasr City store, which has an extensive collection of high-quality artificial plastic and silk flowers.
"We tend to call our flowers everlasting instead of artificial, for their fresh look," Wakil says.
"These flowers have a natural, wet touch to give them real feel as well," notes Wakil, pointing to a bunch of particularly red, perfect roses.
Despite the stigma behind artificial flowers, the Outside In silk flower collection is so vibrant and colorful that it is almost indistinguishable from real flowers. The gallery offers services ranging from designing a simple bouquet to decorating large events and stores such as H&M.
According to Youmna Dessouky, shop manager and floral designer, the white Allium is the ideal choice for wedding decorations; a relatively uncommon flower, it adds light and grace to a reception space.
"Red roses and Calla are the most popular flowers, and the silk black orchid is the rarest flower representation offered at the store," she says.
Wakil's goal is to take artificial flowers to a new level in Egypt.
"There is a common misconception among Egyptians that fake flowers are always made of low-quality materials and produce an unattractive, lifeless look. That is what we want to change through our products," he says.
Artificial flowers are gaining more of a market share over their real counterparts, if only because of their ability to stay vibrant and "everlasting."
"Natural flowers live for only a few days and have become progressively more and more costly. Why wouldn't you buy flowers that can be kept for a lifetime without any maintenance?" he asks.
Of course, not everyone is sold on the idea.
"I'm always disappointed when I find out flowers are artificial," says Dokki resident Sarah Gamal. "One of my favorite things about flowers is their smell."
But Wakil also plans to address this by adding scented artificial flowers to his collection over the next year.
Before officially opening its doors, Outside In had a soft opening two months ago that Wakil said has benefited the business.
"We wanted to make sure that our quality service was at its best before working on big scale. Actual practical experience is definitely more beneficial than merely doing a marketing study," he says. "Over the last two months, we have taken a closer look at our clients' needs and learned how to face difficulties that might arise in the future."
Outside In's staff have backgrounds in creative floral design, he says.
Much like the real flower stores around town, Outside In's success in Cairo depends mainly on word of mouth, Wakil says. "A good reputation and gaining the trust of customers is the best means of success."
Wakil is planning to expand with additional branches and possibly wholesale distribution in the future, but he's keen on maintaining the family-run atmosphere at work.
"The sense of ownership and togetherness is what really matters in this business. We all enjoy coming here every day and getting to know our clients better," he adds.
Address for Outside In: 2 Saudi Buildings, Nozha Street, Nasr City