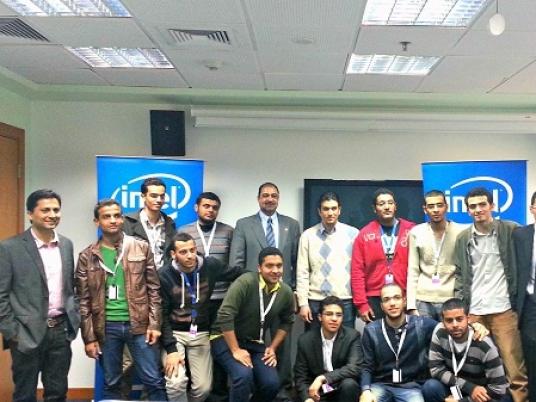 As an antidote to the country's increasing unemployment problem, one company is working to make entrepreneurship and innovation as important a lesson in local schools as math and history.
Egyptians, along with much of the world, need to fundamentally change the way they think about business and innovation, said Manav Subodh, global manager for entrepreneurship at Intel Technology's India division.
"Entrepreneurship is a skill set," he said.
By cultivating innovation and brainstorming from a young age, Subodh said teachers and leaders can prime a generation for self-employment, and pave the way for serious economic development.
In Egypt, as in some other countries, many parents would rather have their children become doctors or engineers, not strike out on their own with an idea for a new business.
This was one of the ideas behind the camp that Intel Corporation held for university students this past weekend in Cairo.
Karim El Fateh, Intel's country manager for Egypt, said the goal is to make entrepreneurial success attainable for youth, by giving them the skills, resources and role models. He said as part of the initiative, the organization plans to bring in local role models — successful men and women who have turned their ideas into a business. The program will eventually reach out to schools from elementary to university level.
Executives said the camp's main objective was to give students the opportunity to come up with business ideas that could address problems they've seen here and "come-up with implementable IT solutions that can help in solving those challenges."
Intel designs and builds the essential technologies that serve as the foundation for much of the world's computing devices, namely computer chips, which most smart phones, tablets, laptop and desktop computers need to operate.
But in making entrepreneurship its international development cause, the international corporation is blazing somewhat new ground. In many countries, there are no formal education programs teaching entrepreneurship, especially in elementary schools.
Even in Silicon Valley in California, the world's development center for most computer technology, many inventors and entrepreneurs say they learned how to build a business around an idea from real-world experience and trial and error, not inside a classroom.
Intel experts, though, have come up with a model for how to teach and encourage entrepreneurship, to test ideas even before launching them.
"Something we realized is that we talk about innovation and entrepreneurship almost interchangeably," Subodh said. "And what we found out is that a lot of innovations fail."
And so, Intel experts came up with a way to test innovation ideas. It's a sort of extensive brain-storming process that the company calls "ideation." They stress that ideas should be easy, scalable and attainable.
"This is a complete process," Fateh said. "This idea is well thought out, the person has a methodology."
They also tell students to look at local problems that business could address.
"We tell them not to get in the solution space," said Subodh.
Rather, he said he tells students to think of ideas like Bey2ollak, a mobile app recently developed that lets Cairo drivers know where traffic is the worst so they can take another route. The app doesn't solve Cairo's crowded roads problem, but helps the user avoid it.
"We help students get in the mindset of the user," Subodh said.
Government officials and experts have frequently said that a solution to the country's large youth unemployment could lie in new entrepreneur enterprises and start-ups. A slew of programs and loans have been set up for the country's small- and medium-sized enterprises.
The unemployment rate in Egypt during the last quarter of 2012 rose to 13 percent from 12.5 percent during the third quarter. That's compared to 9.8 percent during the same quarter in 2010, according to the Central Agency for Public Mobilization and Statistics.
In a statement Saturday, the agency attributed the increase to the slowdown of economic activities in general during that period and claimed that 78 percent of those who are unemployed have high school or university degrees.
Some conservative estimates put youth unemployment at about 25 percent.
These indicators, though negative, prove that great things could lie in store for the country, Intel executives say.
"Youth [and] education are the biggest opportunities Egypt has to offer," Fateh said.
Subodh said if Egyptians can channel their creative and improvising energies into new technology-based businesses, they would propel the country's economy forward.
"Egypt is poised to take leadership in the region," he predicted.
Intel would be glad to see this happen, Subodh added, because development here is good for the company, and Egypt's strength is good for the international economy.
"It's like the saying, 'the rising tide will lift all boats,'" he said.