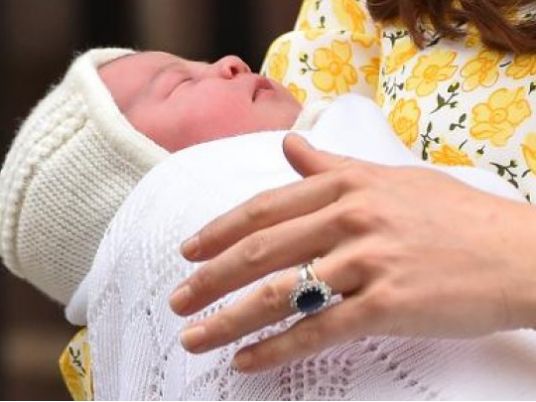 Britain's new baby princess has been named Charlotte Elizabeth Diana, Kensington Palace announced on Monday.
The baby will be known as Her Royal Highness Princess Charlotte of Cambridge.
Gun salutes rang out in London to celebrate the birth of Prince William and his wife Kate's daughter.
Forty-one shots were fired from World War I-era field guns in Hyde Park after a military band played Stevie Wonder's hit "Isn't She Lovely", a song he wrote to celebrate the birth of his daughter, Aisha.
The field guns were dragged by horses in a military procession that went past Buckingham Palace.
Artillery units at the Tower of London also fired a ceremonial 62-gun salute at the same time, with the boom reverberating across the River Thames.
The standard royal salute is 21 rounds — a tradition dating back to cannon fire from ships — and an extra 20 are fired from a royal park or residence.
At the Tower of London, a further 21 rounds were added on to show the city's loyalty to the sovereign.
At London's Westminster Abbey, where William and Kate tied the knot in April 2011, a "Cambridge Surprise Royal" peal of bells was played to mark the birth.
Speculation over what name might be given to the tiny princess, who is fourth in line to the throne after her nearly two-year-old big brother Prince George, has heated up in recent days.
Alice and Charlotte are vying to be the bookmakers' favorite for the baby dubbed "Royal Cutie" by the tabloids, followed by Elizabeth, Victoria, Olivia and Alexandra.
But some commentators have urged the Duke and Duchess of Cambridge to name the princess after William's mother Diana, who died in a 1997 car crash in Paris aged 36, prompting a global outpouring of grief.
Diana gave birth to William in the same hospital where Kate delivered and when the duchess emerged on Saturday she wore, as usual, Diana's sapphire and diamond engagement ring, given to her by William.
Some British media have floated the idea that Diana could be used as a middle name so as not to place an undue burden on the young princess.
George's name was announced two days after he was born, while the country waited a week for William's name and a month for his father Prince Charles.
Jessica Bridge of bookmakers Ladbrokes said that the betting markets were in "total mayhem" over names.
"Bookies all over the UK are hoping and praying for any name other than Alice, Charlotte, Victoria, Elizabeth, Olivia, Alexandra or Diana," she said.
Quick return to Norfolk?
After resting up at Kensington Palace in London, William and Kate plan to travel to Anmer Hall, their secluded 10-bedroom mansion on Queen Elizabeth II's Sandringham estate in Norfolk, eastern England.
The Daily Telegraph reported that the couple could make the switch on Monday, though the palace was keeping tight-lipped.
The monarch was seen attending church at Sandringham on Sunday, so it is likely she will meet her fifth great-grandchild for the first time at the country estate where William and Kate now spend most of their time.
William is not due back at work as an air ambulance pilot in the region until June 1.
His brother Harry is away in Australia on an army secondment and will have to wait a while longer to see his niece.
After completing his training with army units in Perth and Sydney, he will undertake an official tour of New Zealand from May 9 to 16.
Official china hits shelves
The new baby is behind the Queen's eldest son Charles, 66, grandson William and great-grandson George in the line of succession.
However, she is the first major royal who cannot be overtaken by any future younger brothers following changes to the monarchy's rules to remove gender bias.
Kate, 33, gave birth within three hours of being admitted to St Mary's Hospital in London on Saturday.
William, 32, was present for the birth at 8:34 am (0734 GMT) and the princess weighed in at eight pounds and three ounces (3.7 kilos).
The Royal Collection Trust has unveiled the official royal baby chinaware.
Hand-gilded with 22-carat gold, each piece bears the words "Celebrating our new royal baby" and is decorated with a lion and an unicorn.
A coffee mug is £20 (30. 27 euros), while the official velvet cushion is £95.