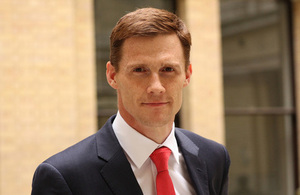 British Ambassador to Egypt John Casson is bidding farewell at the end of his four-year term, with many Egyptian expressing that he will be missed, and has left a mark on the country.
Casson dazzled with his excellent Egyptian colloquial and his love of traditional food, along with his extensive interactions with Twitter users compared with other diplomats. Casson's account, followed by over a million users, used to open discussions with people and solicit questions under the hashtag #askElsafirJohn.
"Of course I'll miss many things in Egypt," one of his answers under the hashtag reads. "I loved walking down Cairo streets such as Bab Alwazir and Hussein, and will miss Egyptian local food (especially Fatatry Al-Hussien), but the thing I'll miss the most is people's warm hospitality."
Casson used to joke with Egyptian celebrities, such as comedian Mohamed Henedy and Egyptian Liverpool sensation Mohamed Salah, while posting about the achievements of Egyptians in sports like Squash.
"Being the Ambassador was the best experience of my life. I have always tried to listen to the Egyptians, learn from them, and work for them. I am proud that Britain is Egypt's first partner in the economy, not only in mega-projects, because every Egyptian benefits from growth in jobs and education," Casson wrote in another tweet.
In a press conference, Casson affirmed that Egypt was the heart of the region, which could not succeed without the large Arab nation.
He called on the United Kingdom to strengthen its partnership with Egypt, and lend its support to "the aspirations of Egyptians, as it is made very rich by its people".
In turn, many Egyptians left the ambassador warm messages on Twitter. "You will be missed too and your very unique unconventional style dear kind ambassador," one wrote.