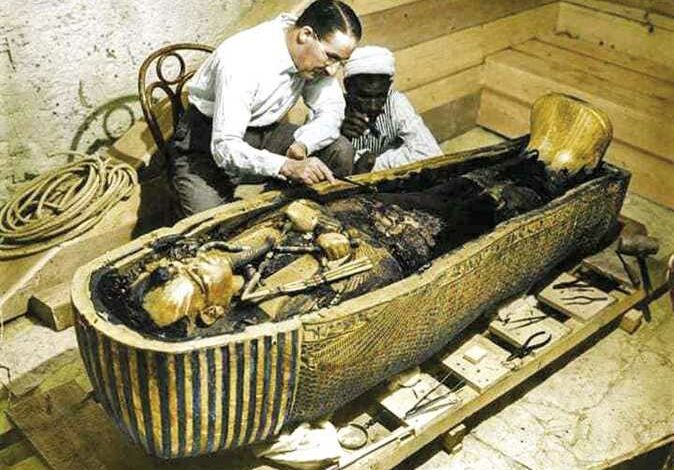 In celebration of the 100th anniversary of discovering the tomb of Tutankhamun, the British Embassy in Cairo is hosting an exhibition all about the "Golden Pharaoh."
"As last year marked the centenary of Howard Carter and his Egyptian and British team's discovery of the tomb of Tutankhamun, the embassy celebrates the centenary of this discovery through a high-level exhibition that is held at the embassy today," the embassy's statement reads.
The embassy added that it will cooperate with the Griffith Institute at the University of Oxford to present their exhibition in Egypt entitled "Excavating the Archive", which was previously displayed at the Bodleian Library in Oxford until February.
The exhibition tells the story of Carter and the excavation team working on Tutankhamun's tomb, and the world's fascination with the discovery of the century. It also displays Carter's papers and documents preserved at the Griffith Institute in Oxford, including pictures, letters, plans, and others.
The embassy indicated that this is a unique opportunity to celebrate the anniversary of this discovery, and to celebrate the two excavation teams from both countries, who worked together to present Tutankhamun to the world.
The Secretary-General of the Supreme Council of Antiquities Mostafa Waziri is scheduled to attend the ceremony to deliver the keynote speech, and the prominent Egyptian Egyptologist, Hisham al-Leithy, to speak in more detail about the importance of this discovery.
The director of the Upper Egypt Archeological Area, Fathi Yassin, said that Tutankhamun is the icon of Egyptian antiquities.
He added that even though it has been 100 years since the discovery of the tomb, there are still unanswered secrets about Tutankhamun and his tomb.
Yassin hailed the British Embassy in Cairo's exhibition for utilizing the soft power Egypt wields and thereby encouraging tourism growth.