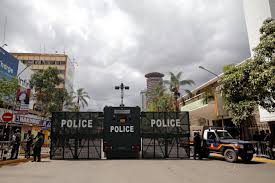 A committee of British lawmakers on Thursday published written evidence provided by a whistleblower who says information about 50 million Facebook users ended up in the hands of political consultancy Cambridge Analytica.
Christopher Wylie, who worked for Cambridge Analytica, alleges that the data was used to help to build profiles on American voters and build support for Donald Trump in the US presidential election.
He also claims that Canadian firm AggregateIQ (AIQ) was involved in the development of the software used to target voters.
Wylie appeared before the Digital, Culture, Media and Sport Committee of the British parliament on Tuesday. The committee said Wylie provided it with documents including a services agreement between AIQ and SCL Elections, Cambridge Analytica's parent company, dated September 2014.
Reuters was unable to independently verify the authenticity of the documents made public by the committee.
AIQ did not respond to Reuters' request for comment after Tuesday's committee hearing, but in an earlier statement said it had never entered into a contract with Cambridge Analytica and had never been part of the firm.
Cambridge Analytica has said it did not share the Facebook profile data with AggregateIQ, did not use it in the campaign to elect Donald Trump, and has deleted the data.