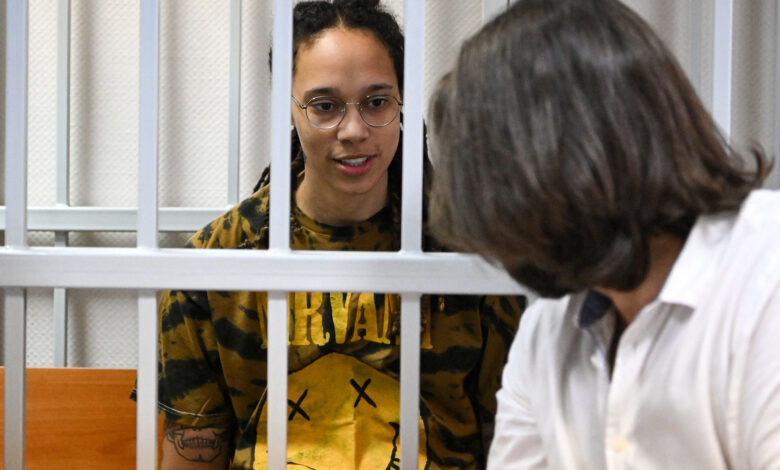 WNBA star Brittney Griner's court hearing has been postponed until Tuesday, July 26 after her defense team said they needed time to prepare their client for the next steps of the trial.
"Yesterday was quite an emotional day for her. She saw her general manager, her friend and teammate Evgeniya Belyakova for the first time in many months. And now she just wants to take a rest," one of Griner's lawyers, Alexander Boykov, told reporters outside the court after the hearing ended Friday.
"We're now on a break of the trial so we could prepare for the next stage," Griner's second lawyer, Maria Blagovolina, said.
When asked about how Griner feels, Blagovolina replied: "She's tired."
"It was quite hard for her (to see her teammates in court) yesterday. But it went well," Blagovolina added.
A former teammate along with the director of UMMC Ekaterinburg Maxim Ryabkov, the team for which Griner played in Russia during the WNBA offseason, testified at the hearing Thursday. They later told reporters they came to support Griner and "be there for her."
Some background: Griner arrived at the Khimki court of the Moscow region Friday for a fourth hearing in her trial, after pleading guilty to drug charges.
Lawyers defending Griner submitted to the Russian court a letter from a US medical center issuing a permit in the state of Arizona for the use of medical cannabis for Griner to treat her chronic pain caused by sports injuries.
Blagovolina submitted the letter as evidence along with medical test results from 2018, and a medical report by an American doctor from 2020 confirming Griner had "a chronic debilitating disease caused by severe chronic pain."
According to Blagovolina, the doctor advised his patient Brittney Griner to use medical cannabis due to the diagnosed "chronic and debilitating medical condition" that "caused chronic and acute pain."