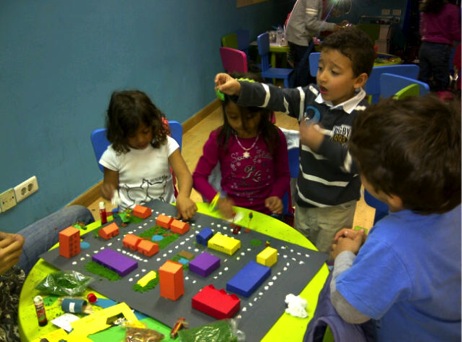 Mini Architect, a program designed to help children master daily life skills and function more effectively, hopes to help them "see the world through architecture."
"The program isn't necessarily about preparing kids to become future architects, but to get them acquainted with architecture from a new perspective and with new outcomes," says Rania al-Basty, one of Mini Architect's three founders.
Influenced by her own experiences, Basty, along with longtime friends Amira al-Sherif and Rania Nassar, decided to team up in April 2011 and use their experiences to come up with an architectural curriculum based on a hands-on learning process.
"We noticed that our work as architects has positively impacted our own children, and they were eager to explore more about the basis of architecture and processes of design," Basty recounts.
This was when they had the idea to open children's minds to their surroundings since, Basty says, the country lacks this beneficial type of study for little ones.
While acquiring an inside view of the profession, children learn observation, listening, cooperation, negotiation and decision-making skills that enable them to more easily comprehend the culture and community they live in.
Mini Architect offers an umbrella program that encompasses a wide spectrum of architectural principals and techniques, split into four age groups: from 4 to 6, 6 to 8, 8 to 10 and 10 to 12. Each standalone workshop lasts about two hours. Kids are able to understand the topic no matter when they start doing the workshops.
The workshops familiarize children with different architecture-related topics and include sessions titled "Shapes and Patterns," "Structures," "Build Your Town," "Architecture Through Senses," "Building Materials," "Measurements and Proportions" and "Earth-Friendly Design."
In the "Shapes and Patterns" workshop, children learn to recognize the simple forms of geometric shapes and how they contribute to the overall appearance of buildings. They spot what shapes have been employed in designing the surrounding architecture, such as windows (square), doors (rectangular) and tower tops (triangles).
The "Earth-Friendly Design" workshop tackles a different architectural angle that conveys a meaningful, environmental message.
"It is all about how good design can help us to use our natural resources and preserve our natural environment," Basty explains. "We teach them that solar panels on top of buildings are used to collect energy from the sun for heating and also about using windmills to generate electricity."
In the "Build Your Town" workshop, kids are introduced to a community's physical elements to understand the components of their architectural environment. They also get to know three-dimensional forms and try to apply them by creating a simplified town model.
To work on observation skills, the "Architecture Through Senses" workshop engages the children's five senses with vibrant colors, different textures of architectural materials and eye-catching building designs.
Basty says paint colors play an essential role in triggering emotional responses, such as red, which stimulates a feeling of enthusiasm. Materials can express mood; for instance, wood can convey a sense of warmth.
"Throughout the workshops, kids discover their surroundings, appreciate the value of good design in the creation of a high-quality built environment, get inspired, and then start to create their own masterpieces with their hands," says Basty.
This piece was originally published in Egypt Independent's weekly print edition.