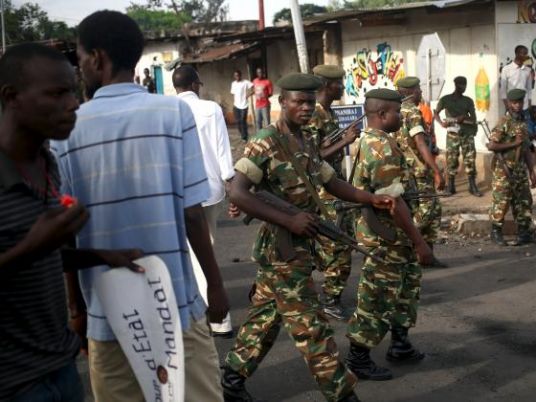 Small groups of protesters shouted slogans against Burundi President Pierre Nkurunziza and his bid for a third term in office on Monday, resuming street demonstrations days after he survived an attempted coup.
The atmosphere was tense as soldiers deployed in the east African nation's capital, Bujumbura, where more than 20 people were killed in almost three weeks of unrest before last week's failed putsch, a Reuters witness said.
Residents reported heavy overnight gunfire in some parts of the city, and one body was found in the morning, though it was not immediately clear who was involved. The police, reviled by the protesters as pro-Nkurunziza, were largely absent, leaving internal security in the hands of the army.
Nkurunziza's bid for another five years in power — which both the generals who announced the coup on May 13 and the protesters say is unconstitutional — has plunged Burundi into its worst crisis since an ethnically charged civil war ended in 2005.
More than 100,000 refugees have fled to neighboring Rwanda, Democratic Republic of Congo and Tanzania, fearing ethnic tensions could escalate and engulf Africa's Great Lakes region, as happened after the Rwandan genocide of 1994.
Demonstrators said they were still determined to see Nkurunziza back down.
"This protest will not end until he himself says that he is not vying for a third term," Gentil Shokomba told Reuters. "We want peace in Burundi, and we are tired of war."
Although Nkurunziza's position appears to be stronger after the rump of the army rallied round him, the bid for power by sacked former intelligence chief Godefroid Niyombare, who is now behind bars, has done nothing to resolve the political dispute.
Divisions in the military, the central pillar of post-war unity and reconstruction, have heightened fears of descent into ethnic conflict between the Hutu majority and Tutsi minority.
On Monday, Kenya called for the presidential elections scheduled for June 26 to be postponed to allow for a "conducive environment" but said they still had to be held before the end of August, when Nkurunziza's term officially closes.
"Mass revenge"
On Sunday, at his first public appearance since the coup attempt, Nkurunziza made no reference to the political crisis, saying instead he was "very preoccupied" by the threat posed by Somali militant group Al Shabaab.
Burundi contributes troops to an African Union force fighting Al Shabaab in Somalia — and the militants have launched attacks in other African countries involved in the mission.
But the Al-Qaeda-linked Somali group dismissed Nkurunziza's statement, saying he was just trying to divert attention while he prepared "mass revenge" on his domestic opponents.
Nkurunziza's critics argue that his bid violates a two-term limit in the constitution, as well as the spirit of the 2005 Arusha peace agreement that ended the civil war.
He argues that his first term does not count because he was appointed by parliament, not directly elected, and points to approval from the constitutional court. His opponents and some donors have questioned the court's impartiality.
Fear over the unrest is particularly acute in Rwanda, which has the same ethnic mix as Burundi and which was torn apart by a genocide in 1994 that killed 800,000 mostly Tutsis and moderate Hutus.