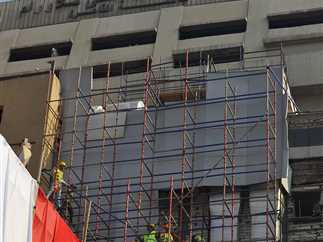 The Cabinet's Media Center denied rumors circulated on websites and social media that the Cabinet plans to direct the National Cancer Institute donations to other state projects.
The center said that it had contacted the Ministry of Higher Education and Scientific Research, which categorically denied the news.
The donation funds will be directed entirely toward the restoration work for the institute and the development of services for patients under the supervision and control of the Ministry of Finance and the Central Auditing Agency, the center said in a statement.
The Higher Education Ministry special account number 777 was established in all Egyptian banks, Fawry service, and Post Offices to collect donations for the institute.
The ministry said that the total initial estimate of losses so far is LE100 million, stressing that any extra donations that arrive after the restoration work has been concluded will be directed to raising the efficiency of the institute so that it can serve more patients, the Media Center said.
The Cancer Institute records more than 306 follow-ups, receives more than 25,000 new patients, and conducts more than 5,000 operations annually.
The Higher Education Ministry appealed to all media outlets and social media users to investigate the accuracy of news before publishing it.
The UAE's Sheikh Mohammed bin Zayed donated LE50 million towards Egypt's National Cancer institute (NCI) to restore its facilities after a terrorist attack took place near the building on Sunday, August 4 at midnight.
TV presenter Amr Adib launched a donation campaign yesterday live on his TV program Al-Hekaya (The Story) on MBC Misr Channel, collecting around LE72 million from several public figures including several businessmen, along with Zayed's donation in addition to numerous donations from governmental and non-governmental entities.
Prominent Egyptian businessmen including Naguib Sawiris, Ahmed Abu Hashima and more informed Adib on air that they will also donate to the funds to secure renovations for the institution.
Sawiris as well as Abu Hashima donated LE1 million while an anonymous businessman came forward with LE500,000. Adib added that the Dar-al Orman Charity contributed LE10 million, while al-Garhy for Steel donated LE3 million.
Egypt's Minister of Solidarity Ghada Wali said in a phone interview on Al-Hekaya that Nasr bank also donated LE5 million.
A terrorist attack took place in Cairo, close to the NCI, killing 20 and leaving around 50 with serious injuries. The Egyptian Interior Ministry said in an official statement that a vehicle carrying explosives collided with three other vehicles.
The Ministry said that the bomb car transporting the explosives was preparing for a terrorist attack, and the statement added that the terrorist Islamist group Hasm was behind the attack.
Edited translation from Al-Masry Al-Youm