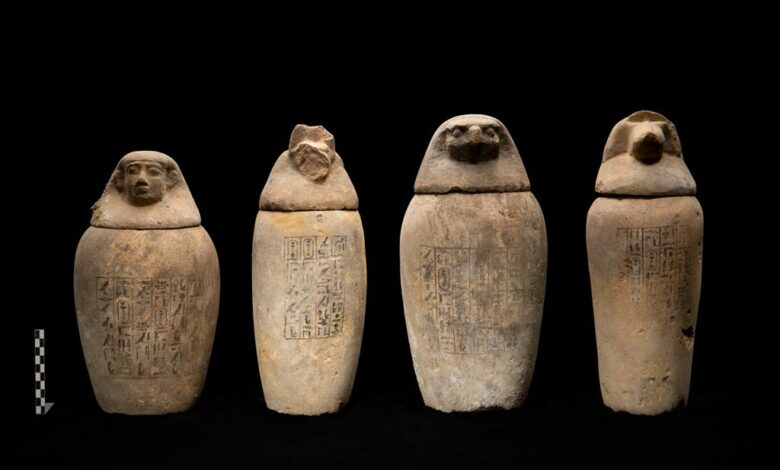 The Czech archaeological mission of the Czech Institute of Egyptology discovered a cache of mummification materials during archaeological excavations inside a group of burial wells dating back to the era of the 26th Dynasty.
The location of this discovery is located in the western part of Abu Sir cemetery, the Ministry of Tourism and Antiquities announced.
The cache was found inside a huge well measuring 5.3 x 5.3 meters, and more than 14 meters deep, containing unique embalming materials, consisting of 370 large-sized pottery vessels divided into 14 groups.
Each set contains from seven to 52 pots, Secretary General of the Supreme Council of Antiquities Mostafa Waziry explained.
He added that these pots contain remnants of materials that were used during the mummification process.
The first group of pots were found on four empty limestone Canopic pots with engraved hieroglyphic texts in the name of its owner.
According to the head of the mission, Miroslav Barta, the 2021 season was part of a long-term project.
The aim of the project was to uncover antiquities dating back to an era in which the ancient Egyptian society was looking for new ways of how to preserve the unique Egyptian identity.
Abu Sir tombs, which were built in a similar way to the famous pyramid of King Djoser of the Third Dynasty of the Old Kingdom, played a major role in showing the unique Egyptian culture, which was expressed by the Egyptian eras of that period.
Deputy Director of the Czech mission, Mohamed Megahed confirmed that during 2022, archaeological excavations will continue in the area.
At the same time, studies and analysis of the contents of the pottery vessels will be started using modern scientific methods.