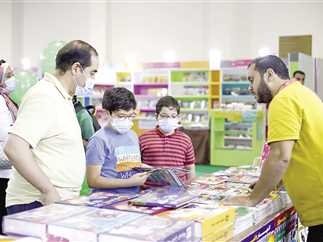 The Director of the Cairo International Book Fair (CIBF) Islam Bayoumi said that the online platform of Cairo International Book Fair will provides unique digital services for the first time due to social restrictions from COVID-19.
In a phone interview with TeN satellite channel on Monday Bayoumi said that the exhibition's online portal will include all publications and all publishing houses, and the exhibition launched virtually on June 30.
"The virtual exhibition will be in 3D technology, meaning that the visitor can roam the exhibition halls and roam between its corridors as if on the ground. The visitor can also click on any book on the shelves, and it will show information about the book, its price and everything related to it," he said.
"This is the first virtual exhibition in Egypt in 3D. There are normal virtual exhibitions, but not with this 3D feature."
The exhibition on the ground can accommodate 100,000 visitors per day, he explained, provided that their reservation is online.
Signing ceremonies have been banned during this year, he added.
The third day of the 52nd Cairo International Book Fair witnessed 62,000 visitors on the fair's third day, amid strict coronavirus precautionary measures.
This year's edition is being held under the slogan "Reading is Life" and features 1,218 publishers from 25 countries.
This year the exhibition is witnessing the launch of the "Your Culture, Your Book" initiative, under which certain book prices range between one LE and LE20.
Additionally, a digital platform for the exhibition that allows attendees to book tickets, view the fair's map, and watch live seminars and workshops has been launched this year.
The fair is set to run daily through to July 15.