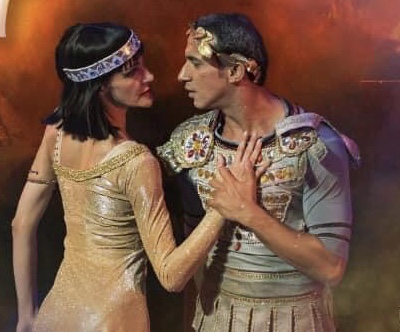 The Cairo Opera Ballet Company, under the supervision of its Artistic Director, Armenia Kamel, will present the entire "Cleopatra" show at the Grand Theater, Opera House, accompanied by the Cairo Opera Orchestra, led by Maestro Mohamed Saad Pasha.
The show will be presented for four nights, and will start at 8 pm, on Tuesday, Wednesday Thursday and Friday.
The Cleopatra ballet show revolves around the historical story of the Queen of Egypt and her marriage to Mark Antony, who divided the rule of the Roman Empire with Octavius after killing Julius Caesar.
Octavius then declared war against Cleopatra and Mark Antony who were defeated in the naval battle of Actium and had a tragic end after the victory of their rival
The Cairo Opera Ballet Company was established in 1966 and was affiliated with the Higher Institute of Ballet and presented its first performances in the same year.
It began presenting shows outside of Egypt in 1972, touring many countries, including Russia, Bulgaria, Yugoslavia, Germany, France and Tunisia.
It became affiliated with the Opera House in 1991 and its repertoire includes a group of the world's most famous classical performances, including Romeo and Juliet, Swan Lake, The Nutcracker, Giselle, Don Quixote, The Rite of Spring, Hamlet, Carmina Burana, Bolero, Cinderella, Cleopatra and others.