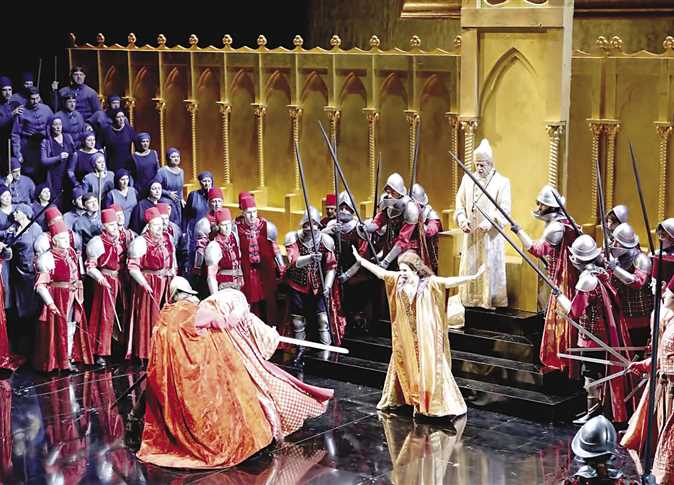 The Cairo Opera House will present Tosca, an opera in three acts by legendary Italian composer Giacomo Puccini starting on Tuesday, as part of an initiative to perform the world's most famous classical works in Cairo, a statement from the Egyptian opera house said on Sunday.
Tosca will be shown at the Cairo Opera House's Main Hall for four consecutive nights, starting at 8:00 pm on Tuesday, February 4.
The performance, directed by Hisham El-Tally, will be accompanied by the Cairo Opera Orchestra, led by Italian conductor David Crescenzi, the Cairo Opera Choir, and the children's choir of the Talents Development Center.
The heart wrenching opera is based on Victorien Sardou's 1887 French-language dramatic play, "La Tosca" (1887), and revolves around events that took place in Rome in 1800 during the French invasion of Italy.
The story centers around two protagonists in love: Mario Cavaradossi, a painter, and Floria Tosca, the soprano diva after which the opera is named.
Mario vows to save Angelott, an escaped political prisoner hiding in the church where Mario is painting. When Scarpia, the police chief, arrives to the church, he becomes suspicious, arrests Cavaradossi and sends him to be tortured. Tosca only obtains her lover's freedom by agreeing to give herself to Scarpia.
Before this happens, however, Scarpia signs a deed granting free passage to the two lovers while vowing to put Cavaradossi through a "mock execution." But Tosca, unable to accept the price set by Scarpia, murders the police chief.
The final scene of the iconic opera is set at Cavaradossi's mock execution, but when the smoke clears, Tosca hurries to her lover's body and finds – to her horror – that she has been tricked: Cavaradossi was dead. The realization prompts the tragedy's female lead to leap from a balcony to her death in the final moments of the opera.
Tosca premiered in Rome in 1900 and explores themes of political intrigue, romance, and death set against the backdrop of the Napoleonic Wars. The opera's composer Puccini has produced several other notable works, including La Bohème (1896) and Madama Butterfly (1904).
Edited translation from Al-Masry Al-Youm