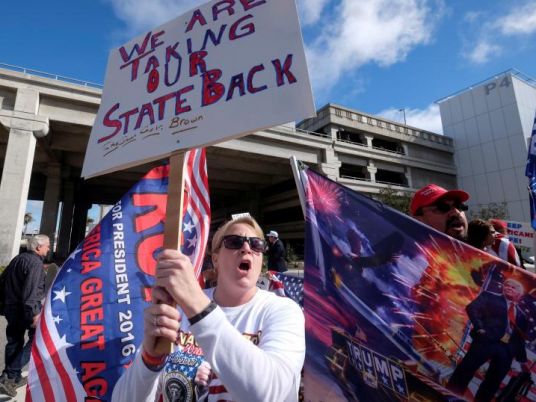 California legislative leaders on Monday demanded detailed information from the Trump administration on immigration arrests and raids in the most populous US state, amid growing concern that agents are targeting non-criminals for deportation.
Citing reports that agents for US Immigration and Customs Enforcement, or ICE, had gone to churches, schools and courthouses to find and arrest illegal immigrants, the legislature used the federal Freedom of Information Act to request all records of enforcement actions taken or planned since Republican Donald Trump was sworn in as president on January 20.
"Despite saying he'd only target dangerous criminals, President Trump's executive orders target practically every undocumented person in California," said Senate President Pro Tem Kevin de León, who signed the request along with Assembly Speaker Anthony Rendon.
ICE did not immediately respond to a request for comment.
California is home to nearly 3 million illegal immigrants among a total non-citizen population of 5.4 million, according to the legislature and the Public Policy Institute of California, making the state a crucible for Trump's new get-tough immigration policies.
Trump recently broadened the categories of people who could be targeted for immigration enforcement to anyone who had been charged with a crime, removing an Obama-era exception for people convicted of traffic misdemeanors.
He has also proposed faster deportation for illegal immigrants who cannot show they have been in the country for more than two years.
But Trump has also said agents are targeting dangerous criminals, not ordinary people, and that he will not take action against those protected by the Deferred Action for Childhood Arrivals program, or DACA, which protects young people brought to the United States as children.
Earlier this month, immigration officers nationwide arrested more than 680 people in the country illegally in a broad enforcement action that alarmed many immigrant groups.
US Homeland Security Secretary John Kelly said on February 13 that the operations, conducted in at least a dozen states, were routine.
But immigrant rights advocates said the operations were more sweeping than those conducted during the administration of former Democratic President Barack Obama.
Protests erupted in several states over the raids and other arrests. Among those arrested were an Arizona mother who was detained when she went in for a meeting with ICE, and a 23-year-old man detained near Seattle who held a work permit under DACA but who agents said had gang affiliations.
In their letter, de Leon and Rendon said that 74 percent of California's non-citizens live in households with citizens, meaning mass deportations could separate spouses from each other, or children from their parents.
"All of these parents and children are potentially at risk of separation at the hands of ICE," the lawmakers wrote.
Reporting by Sharon Bernstein; Reuters