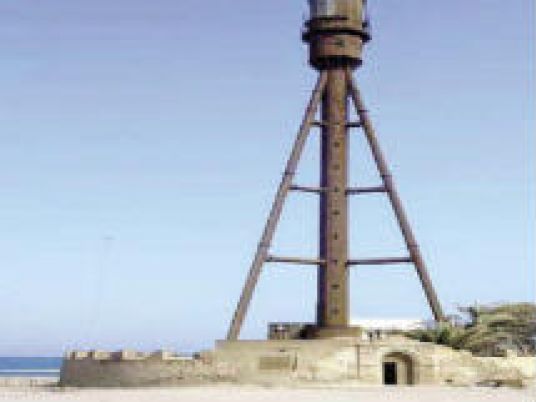 In Ras Gharib stands a lighthouse that was built by famous French architect Gustave Eiffel in 1871, following the opening of the Suez Canal.
Despite its historical significance, the lighthouse is now in poor condition, prompting the residents of Ras Gharib to launch a campaign entitled "Our Lighthouse is in Danger" in order to save it from erosion.
The lighthouse is built on three metal hubs on a wide base. Its tall columns are built on iron-reinforced suspensions. Inside, there is a spiral metal staircase. It is equipped with devices to contact ships and receive SOS messages. It sends four beams of light every 30 seconds that can be seen from a distance of 30 nautical miles.
Mohamed Rafie, a historian, says the lighthouse played an important role in protecting oil rigs during the 1967 war, as Israeli planes could not hit them because they were too close to the lighthouse, which international conventions and treaties dictate are off limits from attack.
Mohamed Helmy, Chairman of Ras Gharib City, said he contacted the Antiquities Ministry to restore the lighthouse and build a museum next to it so as to turn it into a tourist attraction.
Edited translation from Al-Masry Al-Youm