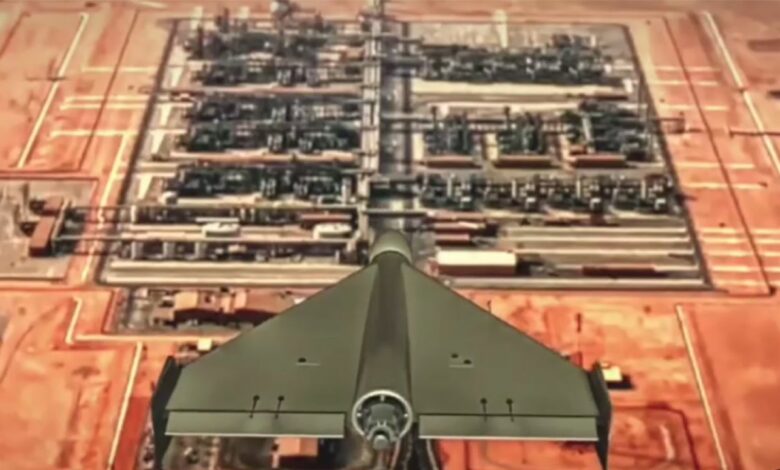 Abu Dhabi
CNN
 —  The animated simulation shows a
fleet of drones
approaching an oil facility belonging to Aramco, Saudi Arabia's state oil company. Air raid sirens are heard with ominous background music as the drones aim at the facility, apparently ready to strike.
The one-minute video ends with a telling verse from the Quran about God repelling the invaders of Mecca by having them pelted with stones from the sky. "And He sent upon them birds, in flocks," it says.
The aircraft have a strong resemblance to Iran's Shahid suicide drones, which have been in the headlines lately for wreaking havoc in Ukraine.
This footage was posted on a Telegram channel sympathetic to Iran's elite Islamic Revolutionary Guards Corps (IRGC) on Wednesday, shortly after US and Saudi officials sounded alarms about an imminent Iranian attack on energy infrastructure in the Middle East, particularly in Saudi Arabia.
Iran's foreign ministry hit back, calling the reports baseless attempts by "Western and Zionist circles" aimed at "creating a negative atmosphere against the Islamic Republic."
But just last month, IRGC chief Hossein Salami warned Saudi Arabia of "consequences" twice in one week for its alleged support for Israel and the nationwide protests that have gripped Iran. Tehran's Yemeni proxy, the Houthi group, also threatened to strike Saudi Arabia and the United Arab Emirates as a truce in Yemen expired in October. US Special Envoy for Yemen Tim Lenderking traveled to the UAE and Saudi Arabia this week to try to "renew and expand" that truce, the State Department said Thursday.
For Iran, attacking Saudi Arabia – or even threatening to do so – is the closest it can come to hitting America without actually hitting America, and risking catastrophic consequences. This was demonstrated in 2019, when an audacious predawn attack on Saudi oil facilities that the United States blamed on Iran was met with a largely muffled response by the Trump White House, arguably the most pro-Saudi US administration ever. Tehran's calculations likely take that into account. Iran denied involvement then, and the attack was claimed by the Houthis.
Iran is also proving to be a thorn in the US's side by providing missiles and drones to foster Russia's Ukraine invasion.
If Iran does indeed want to cause damage to both Saudi Arabia and the Biden administration, it likely considers the time to be ripe now, given the deep fissure in Saudi-American relations.
But its window to do so is probably small. When Aramco was hit in 2019, half of Saudi Arabia's oil supply was knocked off the market, sending global crude prices soaring by 19.5%, the biggest jump on record. A similar scenario ahead of Tuesday's midterm elections would likely have a detrimental impact on the Democratic Party's prospects in the vote as President Joe Biden struggles to battle inflation at home.
The bellicose battle of cartoons and Quranic verses between Saudi Arabia and Iran isn't new. In late 2017, an animation surfaced on YouTube from a channel called Saudi Strike Force showing the kingdom's forces invading Iran and capturing a quivering man, eerily similar to Qasem Soleimani, the head of the IRGC's Qods Force who was killed by the US in a January 2020 drone strike. In the footage, Iranians in Tehran are shown celebrating Saudi Crown Prince Mohammed bin Salman (also known as MBS) as their liberator.
That video started with a quote by MBS saying Saudi Arabia will "bring the fight to Iran" and it also ended with a Quranic verse – this one about a plea from Abraham to God: "O, my Lord! Make this city (Mecca) one of peace and security and keep me and my sons away from worshipping idols."
But that was a different era. Now, the Saudi-Iranian proxy war in Yemen and regionally has calmed, and Riyadh has actually been talking to Tehran, perhaps in an effort to prevent the heated rhetoric that culminated in the 2019 attack. The two countries held their sixth round of talks in April and both parties have cited progress.
The messages from Iran have been mixed. Last month, while the IRGC was threatening Riyadh, the Iranian Supreme Leader's adviser called for Saudi Arabia and Iran to reopen their embassies in each other's capitals. "We are neighbors of Saudi Arabia and we must coexist," said Ali Akbar Velayati.
An Iranian attack on Saudi Arabia would serve as a convenient distraction from public civil rights protests at home due to the damage it could cause to its regional nemesis and to the global economy. This time, however, given Iran's very public threats to Saudi Arabia, Tehran may not have the option of plausible deniability as it did in 2019.
But the saber-rattling may also just be intended to keep the Saudis and Americans on their toes, the oil markets jittery, and prices high enough to hurt wallets and politics.