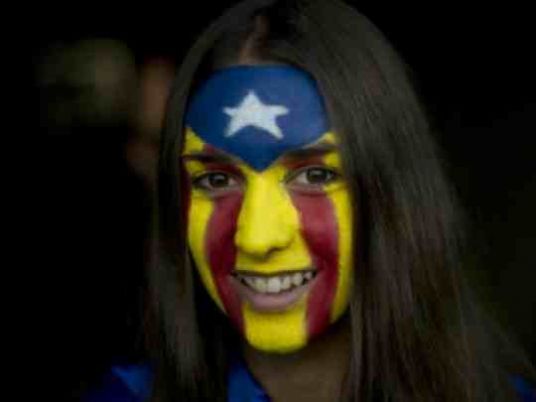 BARCELONA (Reuters) – Catalan separatists began gathering in Barcelona on Tuesday to celebrate their region's commemorative day and boost its bid for independence, in an event expected to draw hundreds of thousands onto the city's streets.
Catalan leader Quim Torra and his predecessor Carles Puigdemont, who fled to Brussels in October after Madrid stripped him of office over his secessionist ambitions, have urged a big turnout to show continued support for a split from Spain.
"Our government has committed to making the republic a reality," Torra said on Monday in a televised address. "Long live free Catalonia."
Supporters of seceding the wealthy and politically divided northeastern region from the rest of the country have in recent years used the celebration of "Diada", the Sept. 11 anniversary of the fall of Barcelona to Spain in 1714, to promote their cause with mass demonstrations.
Just under a year ago, Puigdemont's pro-independence regional government held a referendum on independence, ruled unconstitutional by Madrid, followed by a unilateral declaration of independence.
A key motif at this year's event are yellow ribbons representing nine politicians and activists awaiting trial in jail for their role in that independence bid.
Their trials are expected to start later this year, a potential new source of tension as Prime Minister Pedro Sanchez tries to smooth relations with the region's current leaders.
Socialist Sanchez, who took office in June, has taken a more conciliatory approach to the issue than his conservative predecessor Mariano Rajoy, who sacked Puigdemont and his government and imposed direct rule from Madrid.
But Sanchez, like Rajoy, has stood firm against allowing a vote on secession, or any unilateral attempt by Catalonia to secede.