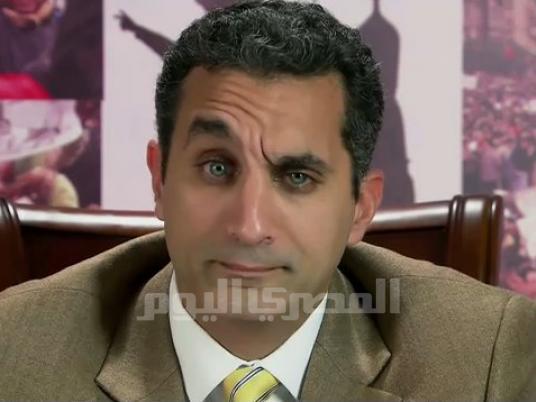 Privately owned-satellite network CBC has responded to criticism aimed at Bassem Youssef, after he returned to present his El-Bernameg show after months away from the small screen.
Controversy has grown since Youssef appeared on television for the first time in four months on Friday night, leading to lawsuits, fierce Twitter debate and even a statement from armed forces spokesperson, Ahmed Mohamed Ali.
The network acknowledged Youssef's use of obscene language and mockery of what it described as "the symbols of the Egyptian state."
Complaints have come in following the show's airing on Friday, with some attacking Youssef for his guarded criticism of army chief Abdel Fattah al-Sisi.
The network acknowledged audience reactions after the show were "largely disapproving."
"CBC will continue to be supportive of the basics of national sentiment and popular will, and is keen on not using phrases and innuendos that may lead to mocking national sentiment or symbols of the Egyptian state," a CBC statement said.
The private network ended its statement by stressing it "supports the Egyptian people's revolutions on 25 January and 30 June."
On Twitter, the official CBC account also said that the board of directors also had reservations about some of the content on Friday's episode of El-Bernameg.
The episode tackled the role of interim President Adly Mansour, as well as the ignorance of some Egyptian media and people towards him. Youssef insinuated that Sisi was in fact in control of the country, mocking the so-called "Sisi mania" sweeping Egypt since Islamist President Mohamed Morsy was ousted from power on 3 July.
It also criticized remarks made by Defense Minister Abdel Fattah al-Sisi saying that the armed forces should have sway over national media. A leaked video emerged weeks ago showing Sisi and other army generals discussing how best to control the media and ensure it remained favourable to the armed forces.
Armed forces spokesperson Ahmed Mohamed Ali denied that Defense Minister Abdel Fattah al-Sisi has commented on the Friday episode of Youssef's show.
Ali confirmed on his official Facebook page that Egypt's army had not issued any statements about the episode.
The show's first run in four months has sparked major controversy within Egyptian society and on social networking websites.
Edited translation from Al-Masry Al-Youm