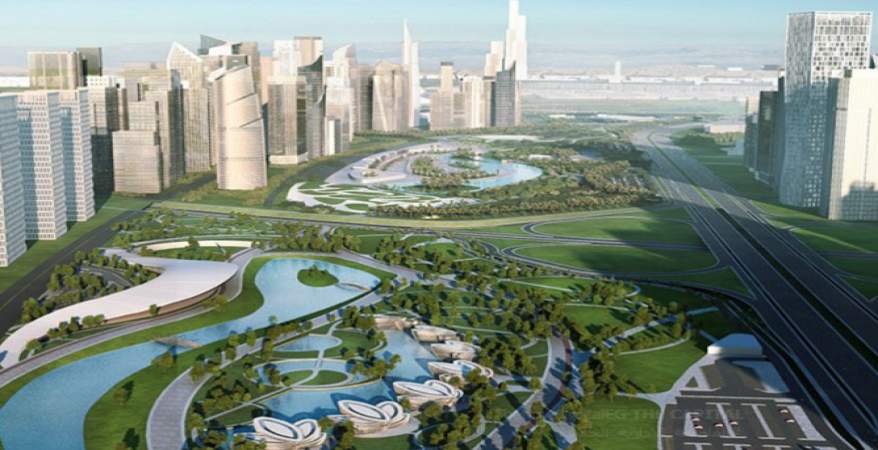 Egyptian Housing Minister Assem al-Jazzar is overseeing the construction of Cairo Capital Central Park, one of the world's largest parks, located within the Capital Park corridor of Egypt's New Administrative Capital.
The privately-owned al-Watan newspaper recently reviewed the project's plans and progress.
It reported that the park will be more than 10 km long, with an area of approximately 1,000 acres.
The park is planned to provide recreational areas that are on par with international standards.
The Capital Park project is divided from east to west into three planning sectors, each of which contains a park with a different focus.
The first park, called the History and Gateway Park, has an area of 375 acres. It includes more than 250 acres of open areas for picnics and outdoor activities, and will house a mosque, botanical gardens, a bedouin camp, and an iconic monument plaza.
The second park is dedicated to health and sustainability, and features jogging trails, multi-sports fields, a wetlands park, and a community garden. With an area of 306 acres, this park will be a major hub for community and recreational activities.
The third sector of Capital Park is home to Civic Park, which has an area of 309 acres. It will include riverfront restaurants and retail shops, a sculpture garden, a ferris wheel, an open library with reading gardens, and the recreational sports club. This park is on the edge of the new capital's central business area.
An integrated network of pedestrian and bicycle paths will allow Egyptians of all abilities to enjoy the parks.
Each sector of Capital Park will include residential and commercial districts.
The Green River, representing Cairo's Nile River, will flow through all sections of Capital Park.
The new city, costing approximately LE380 billion, will become Egypt's administrative and financial capital, hosting dozens of foreign embassies as well as local government offices.
The project seeks to relieve congestion in Cairo, which is home to more than 20 million people.