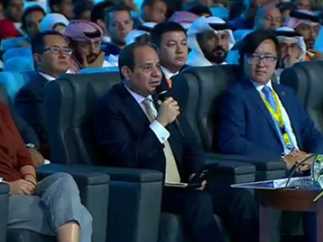 "Change by force makes us open the gates of hell," President Abdel Fattah al-Sisi warned on Sunday during the Post-Conflict Session at the World Youth Forum being held in Sharm el-Sheikh.
Sisi stressed that Egypt was heading toward what he called a "national suicide" and that he has frequently warned against it.
He pointed out that Egypt had foiled plans of foreign countries that tried to intervene in its internal affairs.
The unplanned actions taken in Egypt during previous years opened the gates of hell on the country, he said.
Mobilizing youth and public opinion to make change in societies using force may get out of control, creating a huge power vacuum, Sisi asserted.
According to Sisi, the void that could arise as a result would allow domestic and foreign powers to intervene in the internal affairs of the state and collapse its institutions.
The financial, moral and political costs of countries in conflict are much greater than expected, he added.
The effort exerted by the Egyptian state during the previous five years to restore stability and peace is unprecedented, Sisi said, adding that at some point "all we hoped was to return to the pre-January 25 situation".
Edited translation from Al-Masry Al-Youm