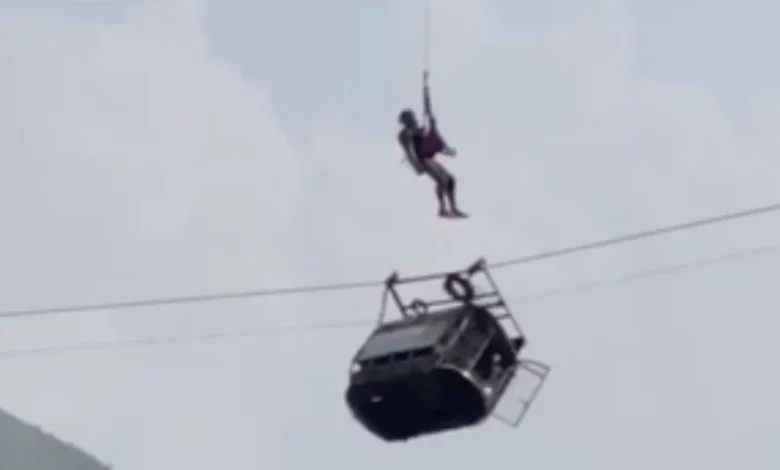 Islamabad, Pakistan
CNN
 —  An urgent rescue effort is underway in Pakistan for six children and two adults trapped in a chairlift dangling 900 feet (274 meters) over a mountainous region in the country's northwest.
The children were traveling to school in the province of Khyber Pakhtunkhwa when one of the chairlift's cables snapped at 9 a.m. local time on Tuesday, according to Pakistan's National Disaster Management Authority (NDMA).
A surveillance helicopter reached the location of the chairlift first, before a larger helicopter arrived to ensure that there is enough space to carry everyone being rescued, said the district's deputy commissioner Tanveer Ur Rehman.
Two of the students on the chairlift are slipping in and out of consciousness, one of the passengers told Pakistani media outlet Geo News.
The passenger, named only as Gulfaraz, urged state authorities to take action. He said that the students, aged between 10 and 15 years old, don't even have drinking water.
Rescue personnel have given the passengers nausea medication following reports of children vomiting, Ur Rehman said, adding that those trapped were also given heart related medication.
He said the helicopters will stay in the air until the rescue operation is completed as bringing them down caused the remaining cable to move too much.
Previously, a local government official said eight children were trapped with the adults at a height of 1,200 feet (365 meters).
The chairlift connects two communities in the region and runs on two cables, one of which snapped, according to rescue official, Bilal Ahmad Faizi.
Pakistan's caretaker Prime Minister Anwar-ul-Haq Kakar has ordered all "dilapidated and non-compliant chairlifts" to close immediately, according to a statement from his office.
Many children who live in remote and mountainous parts of Khyber Pakhtunkhwa province rely on cable cars to ferry them to school and back. Some of these lack regular maintenance and can be a risky form of travel.