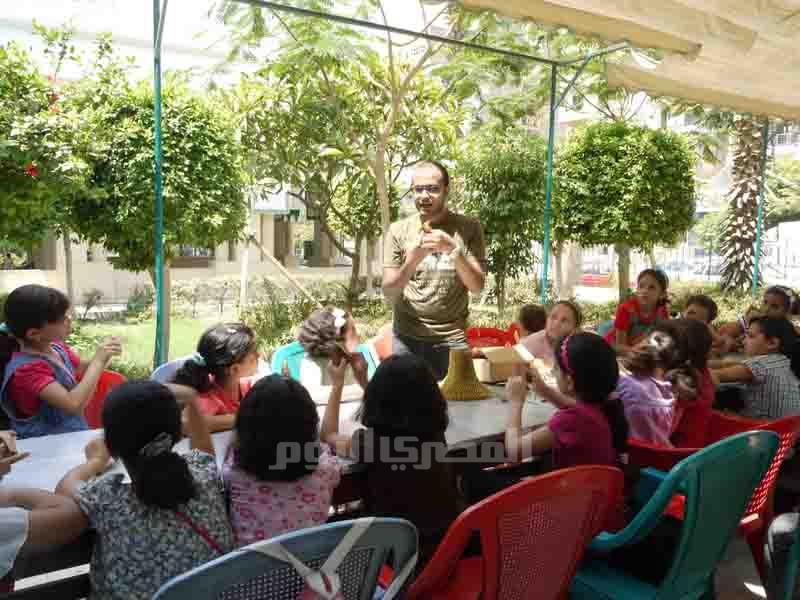 If you are interested in teaching your children origami, the Treehouse workshop is one of the best places for young people to practice the basics of the art of folding paper with the professional expertise of Mohamed al-Sherbiney.
At the Treehouse artistic workshop, origami is used as a tool to teach children how to be accurate, patient and have an artistic eye and a sense of accomplishment through following step-by-step instructions to eventually come out with their own achievements.
Origami is the art of forming objects using square pieces of paper. This kind of art has no age. It involves a variety of folding techniques employed in forming sculpted origami paper models that range from a simple four-step process for little kids to complex patterns that can take days to create for stunning pieces of art.
Sherbiney recounts the history of origami, saying, "It originated in China around a thousand years ago, then moved to Japan where the paper folding techniques went through major developments and evolved to a high creative art form."
"Over the years, it continued to grow in other countries until it was introduced into Europe, especially in Andalusia in Spain, by Arabs."
The artistic process requires origami paper, which is commonly colored on one side and white on the other. However, this kind of paper is not available in Egypt, which makes Sherbiney use regular paper instead. He makes some modifications to make them more like the original origami paper.
"I bring paper with the same thickness as origami paper and cut it out to the typical dimensions. Then, I color one side with food coloring to guarantee the safety of the children," he says.
In recent years, origami art has been met with growing enthusiasm in Egypt and the Arab world.
In 2010, the Anna Lindh Foundation, a Euro-Mediterranean organization for bridging cultural gaps through the arts, held the Farah al-Bahr festival in Alexandria. International artists from the two shores of the Mediterranean shaded light on origami.
In 2011, a group of highly skilled artists including Sherbiney founded the Arab Origami Center, the first specialized educational origami center.
The center holds workshops, exhibitions and lectures to disseminate the art of origami in Arab countries and enhance the importance of origami art in the educational and pedagogical process.
The same year, the Arab Origami Center organized the first Arab Origami Festival, which proved to be a remarkable success.
The workshops are held in a low-level treehouse, maintaining a safe environment for children, with a small garden area overlooking the Nile in Zamalek's Sequoia restaurant.
Children ages 4 to 15 can attend the two-hour workshop at 3pm on Fridays for LE25 per class.