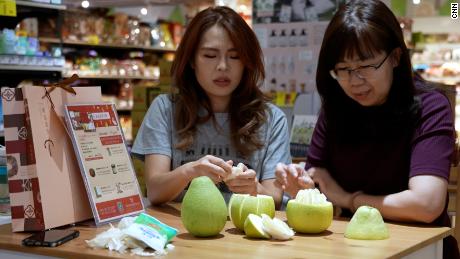 Madou township, Taiwan (CNN)For the last 18 years, Li Meng-han and his family have grown pomelos in a rural town near the southern Taiwanese city of Tainan.
Taiwanese pomelos, known for their juiciness and softness, are highly popular on both sides of the Taiwan Strait, especially during the Mid-Autumn Festival, an important holiday in Chinese culture that falls this year on September 10.
August and September are usually the busiest months for Li and other pomelo farmers in the Madou township, as they prepare for the harvest, but this year they're facing an unexpected challenge: Chinese import bans.
On August 3, amid rising tensions between Beijing and Washington over US House Speaker Nancy Pelosi's controversial trip to Taiwan, Chinese Customs officials announced an import ban on all Taiwanese citrus fruits — including pomelos — as well as two types of fish, citing "excessive pesticides" and "Covid-19 prevention" measures. Taiwan has condemned the move as violating international trade norms.
The announcement also came as Beijing conducted extensive drills encircling Taiwan in response to Pelosi's visit — exercises that authorities in Taiwan said simulated a possible attack on the island. China's ruling Communist Party claims Taiwan is part of its territory, despite having never governed it, and has refused to rule out the use of force to bring it under control.
Li, who typically sends about 60% of his pomelo harvest to mainland China, said he was "very surprised" when he first learned about the export ban, describing the situation as "the most challenging" since the family business began in the early 2000s.
"I didn't see the ban coming so far, we were caught off-guard," Li said. "I can't do anything, it's some kind of political issue between Taiwan and China … we simply want to grow good fruits and sell them at a good price."
'Caught by surprise'
During the annual pomelo harvest, Li is usually busy on the phone finalizing deals with buyers in China and other parts of Asia as his 40 contractors pick the best fruit to be packed into boxes and sent abroad.
But this year, news of China's sudden import ban threw his plans into disarray.
"When I heard about the ban, I immediately called my business partner in China to check whether this is really the case," he said. "I was caught by surprise, because we already signed contracts and set the price, and even the shipment dates were already confirmed."
"But now it's all in vain, so we have to try to find ways to sell them to the domestic market," he added.
Li is not the only Taiwanese affected by China's economic retaliation. According to statistics from Taiwan's Council of Agriculture, Taiwan produced more than 82,000 tons of pomelo fruit last year, of which about 7% — or about 5,000 tons — were exported to mainland China.
Together with China's import bans on other pomelo fruits and two fish products, the council estimated that Taiwanese exports worth 620 million Taiwanese dollars ($20 million) would be affected.
Sun Tzu-min, general manager of Madou Farmers' Association, said there are about 2,000 to 3,000 pomelo farmers in the township, adding that while most pomelos are sold domestically, the ban would likely affect market price and reduce farmers' income.
"It's been hard for farmers," she said. "A sudden ban can put everything on hold. The pomelo trees can live for decades, and their fruits get sweeter as the trees get older, so it's impossible for farmers to abandon them."
"When all the fruits stay on the island, the market price will go down for sure… farmers are losing money when their fruits can't be exported," she said.
Fruits and politics
Since last year, China has targeted a number of Taiwanese agricultural products as it steps up its military, diplomatic and economic pressure on Taiwan — a self-governing, democratic island of 24 million people just off China's southeastern coast.