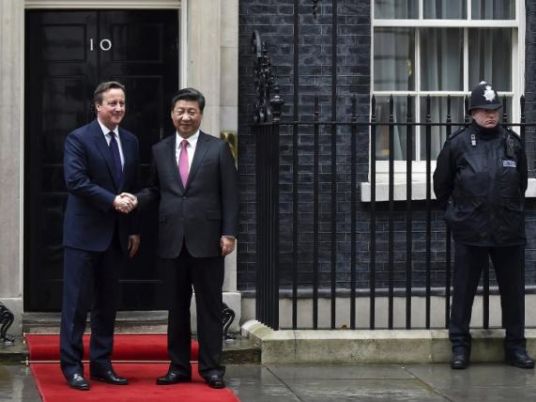 Chinese President Xi Jinping sealed a multi-billion dollar deal to finance nuclear power stations in Britain, crowning a visit that Prime Minister David Cameron hopes will unleash a wave of investment from the world's second largest economy.
After a day of pomp alongside Queen Elizabeth, Communist Party General Secretary Xi on Wednesday met Cameron in his Downing Street residence where the visit's biggest deal so far – to invest in nuclear plants – was due to be announced.
In the first major Chinese investment in a Western nuclear facility, China's General Nuclear Corporation (CGN) will take a one-third stake in the planned 18 billion pound ($28 billion) Hinkley Point nuclear plant owned by France's EDF (EDF.PA).
State-owned CGN will also take a two-thirds stake in the Bradwell nuclear plant east of London, where it plans to build a Chinese-designed reactor, and a one-fifth stake in a project for Areva (AREVA.PA)-designed reactors at the Sizewell plant.
"China and the UK are increasingly interdependent and are becoming a community of shared interests," Xi said in a speech to both houses of parliament on Tuesday.
Escorted by Prince William, the queen's grandson, Xi inspected a new battery-powered black taxi to be produced by London Taxi Company, which is owned by China's Geely [GEELY.UL].
Cameron is pitching Britain as the pre-eminent Western gateway for investment from China, though the warmth of the reception for Xi has raised some eyebrows with allies and drawn criticism that London is ignoring China's human rights record.
Protests on the street against the Communist leader have been small so far, despite activists accusing Cameron of courting Chinese money while brushing aside criticism of a crackdown in civil liberties since Xi came to power in 2012.
British officials and business leaders say the rise of China is impossible to ignore: China's economy – the second biggest in the world – is four times the size of Britain's.
"China is investing more in Britain now than other European countries," Cameron, who wants to make London the Western centre for renminbi trade, told China Central Television.
China on Wednesday nearly doubled a bilateral currency swap agreement with Britain to 350 billion yuan ($55 billion), part of Beijing efforts to spur more use of the yuan abroad.
Xi has feted Britain for a visionary choice in strengthening ties, though some British lawmakers have pressed Cameron to raise the issue of cheap Chinese steel imports after over 4,000 jobs were thrown into jeopardy at steel plants across Britain.
Nuclear deal
China will take a 6-billion-pound stake in EDF's Hinkley Point project in the south-western English county of Somerset, due to be the first new nuclear plant to be built in the European Union since Japan's Fukushima disaster in 2011.
The Chinese investment, agreed in principle in October 2013, breathes life into a British plan to replace around a quarter of its electricity generating capacity over the next decade and offers China a way to showcase its nuclear technology as part of its pitch as a global exporter of quality infrastructure.
No overall figure was immediately given for the Chinese nuclear investment. Britain has said 30 billion pounds of contracts would be clinched during the trip.
The deal brings Britain's first new nuclear plant since 1995 a step closer and is also a boost for EDF, which has been hit by billions of euros of cost overruns and years of delays with two of its other European nuclear projects in Finland and France.
The prospect of China, which Western spymasters say sponsors hacking of global companies, helping to build a nuclear plant in Britain and being involved in running others has stoked security concerns in Britain.
Steve Hilton, a former policy adviser to David Cameron, told the BBC that Britain should impose sanctions on China for political oppression and cyber attacks instead of rolling out the red carpet.
"This is one of the worst national humiliations we've seen since we went cap in hand to the IMF in the 1970s," said Hilton, who left Downing Street in 2012, referring to the 1976 crisis during which Britain was forced to ask for a loan from the International Monetary Fund.
"The truth is that China is a rogue state just as bad as Russia or Iran, and I just don't understand why we're sucking up to them rather than standing up to them as we should be."
China has strongly denied previous accusations of espionage, saying it is itself a victim of cyber attacks.