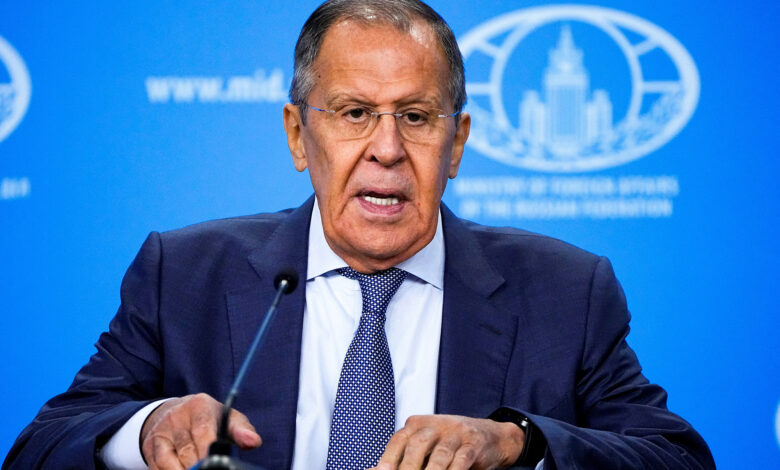 Chinese Foreign Minister Wang Yi met Russian Foreign Minister Sergey Lavrov on the sidelines of the United Nations General Assembly in New York on Wednesday, according to statements from both sides.
On the issue of Ukraine, Wang stressed that China would continue to "maintain its objective and impartial position" and "push for peace negotiations," according to a readout from the Chinese Foreign Ministry released Thursday.
It is hoped that all parties will not give up on dialogue and commit to resolving security concerns through peace negotiations," Wang said. 
A summary of the meeting from Russian state media agency TASS noted that the two sides discussed subjects including Ukraine, but did not provide details on what was said about the issue, which looms large at the opening of this year's assembly.
It was unclear whether the two discussed the "partial mobilization" of Russian citizens announced by Russian leader Vladimir Putin in an address Wednesday morning Moscow time, or his endorsement of referendums on joining Russia that Russian-appointed leaders in four occupied regions of Ukraine announced they would hold this week. Both actions were decried by Ukraine and its allies.
When asked about the referendums in a regular scheduled press briefing on Wednesday, a spokesperson for China's Foreign Ministry in Beijing said China's position on Ukraine had been "consistent and clear."
"We believe that all countries deserve respect for their sovereignty and territorial integrity, that the purposes and principles of the UN Charter should be observed, that the legitimate security concerns of any country should be taken seriously," said spokesperson Wang Wenbin.
"China stands ready to work with members of the international community to continue to play a constructive part in de-escalation efforts," he said, before declining to respond further when asked specifically about the mobilization.
Some context: China has refused to condemn Russia's attack on Ukraine and has decried Western sanctions on Moscow, while boosting its own purchases of Russian energy. During a face-to-face meeting between Putin and Chinese leader Xi Jinping on the sidelines of the Shanghai Cooperation Organization summit in Uzbekistan last week, Putin praised China's "balanced position" on the Ukraine war, though conceded Beijing had "questions and concerns" over the invasion.