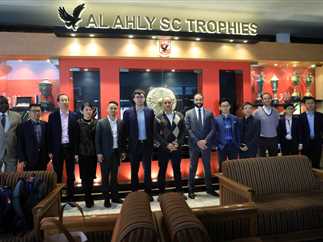 Al-Ahly Club board member Mohamed Serag Eddin, Executive Director Mohamed Morgan, Engineering Department Director Sameh Kamel, and Marketing Director Amir Tawfeek received a Chinese delegation to discuss means of cooperation with the club.
Al-Ahly seeks cooperation with international giant companies to implement sports construction projects.
The delegation included members from the Chinese government, including a number of officials from the ministries of commerce and industry as well as the Chinese embassy in Cairo, and representatives of a group of giant companies in the fields of construction, finance, real estate and industrial investment, including representatives of six private companies that have implemented mega residential, commercial, industrial and sports projects in China, Asia and Africa.
The companies represented have implemented huge Olympic stadiums and cities in China, including the city that will host the 2022 Asian Games in Hangzhou, China, as well as some stadiums in Africa.
The delegation toured different headquarters belonging to the club in Cairo and inspected the land where Al-Ahly management seeks to establish further sports buildings in Sheikh Zayed City.
According to the official website of Al-Ahly, Serag Eddin said the Chinese delegation was very pleased with the warm welcome and praised the infrastructure of the club, expressing eagerness to invest in Al-Ahly.
The Chinese delegation said it would study the proposed projects, especially that the Chinese government and the Chinese embassy in Cairo encouraged them to invest in Egypt, which has a promising investment future and a suitable economic climate, according to Serag Eddin.
Edited translation from Al-Masry Al-Youm