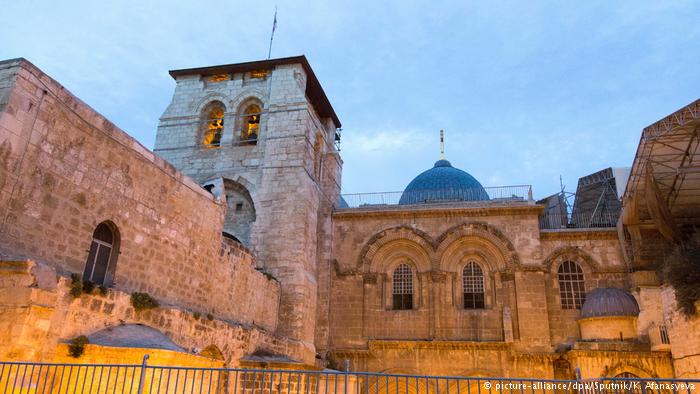 The leaders of several Christian faith groups on Sunday said the Church of the Holy Sepulchre, where many Christians believe Jesus was buried, would be closed until further notice.
A statement from Roman Catholic, Greek Orthodox and Armenian Church leaders accused Israel of a "systematic and unprecedented attack against Christians in the Holy Land."
The leaders voiced consternation with plans to tax church assets that are considered to be commercial.
"As a measure of protest, we decided to take this unprecedented step of closure of the Church of the Holy Sepulchre," the statement said. It added that the tax changes appeared to be "an attempt to weaken the Christian presence in Jerusalem."
'Hotels, halls and businesses'
The clerics also expressed concern about legislation being considered by the Israeli government that would allow the expropriation of church property sold to anonymous buyers.
Jerusalem Mayor Nir Barkat said in a statement that the city was owed 650 million shekels ($186 million, €152 million) in uncollected taxes. He stressed that the Holy Sepulchre and other churches were exempt from the taxes and that they would remain so.
Barkat stressed the changes applied only to establishments such as "hotels, halls and businesses" that were owned by the churches.
Christian leaders say the changes mean they will be unable to conduct their social and religious work, including the delivery of social services to those in need.
Custody of the Church of the Holy Sepulchre in Jerusalem's Old City is shared by the Greek Orthodox, Armenian and Roman Catholic denominations. Tensions between the groups have impaired restoration work over the past 200 years, but it was eventually deemed unsafe and only reopened last March after repair work was carried out.