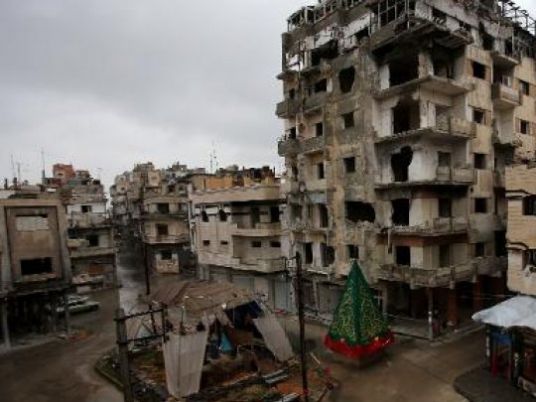 A brightly coloured Christmas tree stands amid the ruins of the Syrian city of Homs, restoring some hope for Christians celebrating in their neighbourhood for the first time in years.
"Our joy is indescribable," Taghrid Naanaa said while picking out Christmas tree decorations at a local shop.
"We have decorated the streets, the doors, even the destroyed balconies," said the 50-year-old, proud of her efforts to erase the battle scars that mark Syria's third city.
Her neighbourhood Hamidiyeh is among areas that in May fell back under army control after a deal allowing several thousand rebel fighters and civilians to flee a nearly two-year siege.
Afterwards only a few dozen families returned home to destroyed Hamidiyeh, where Christians and Muslims had lived side by side for centuries. Many others have yet to settle back into their district.
Naanaa spent three years living with relatives in another part of the war-ravaged city.
"We decided not to celebrate Christmas before coming back to our neighbourhood and our house," she said.
– Destruction everywhere –
In Hamidiyeh, every alleyway, building and door is marked by fighting.
Even before the siege, much of Homs was a war zone. Today, only Waer in the southeast remains in rebel hands after the army gradually reclaimed districts.
For the first time in years the shelves of a general store in Hamidiyeh are packed with Christmas decorations.
"Peace on earth," reads a red sign on the door, decorated with gold flowers and the image of an angel.
Inside hangs a more prosaic message: a photograph of President Bashar al-Assad. Underneath, there is an inscription: "With you, security returns".
Christians of various denominations make up around five percent of Syria's population.
Fearing that if the regime falls, jihadists will impose an Islamic state in Syria, most Christians would like to see Assad stay in power.
Like Naanaa, 50-year-old schoolteacher Marwan Najjar cannot contain his joy as he relaxes on the sofa of his renovated home.
"Christmas brings the chance to think of our peaceful past, despite the destruction and the tragedy," said Najjar, who fled his neighbourhood in February 2012 and returned when the army reclaimed it.
"This is our first Christmas here since we returned to the district. We hope this is a sign of peace for all the world," he told AFP.
– Praying for peace –
Hamidiyeh is still mostly empty, but at the once-popular Al-Bustan restaurant, workers are busy renovating and decorating in time for Christmas Eve festivities.
"This will be the first restaurant to reopen in the district," employee Hossam Khazzam said, adding that it was fully booked for Christmas Eve.
In Majla Square, volunteers have manufactured a Christmas crib out of rubble. They have also planted a tree there, its bright colour jarring sharply with the ruins all around.
"When we came back to the neighbourhood, everything was black," said Rula al-Sufi, one of the volunteers.
"We put colour back in to this place because we didn't want our children to think that Homs is just about destruction," she added.
Some returnees have painted the walls of their homes in bright colours and decorated them with floral patterns.
In the courtyard of the St Mary Church of the Holy Belt, which was damaged by bombing, scouts have planted another Christmas tree decorated with red ribbons and a Santa Claus hat.
"Planting this tree once more in our church shows that we are attached to our roots, and that no one will be able to tear us from our land," said Samer, a 40-year-old accountant who is now jobless and homeless after his house was destroyed.
"Last Christmas, we prayed to return here. Now, we pray for peace to return to Syria."