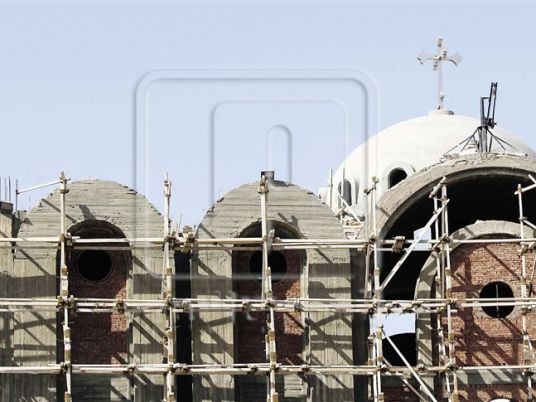 The three main church denominations in Egypt sent a drafted law on the renovation and construction of churches to Chancellor Madgy al-Agaty, Legal Affairs Minister in the House of Representatives, on Saturday.
Al-Masry Al-Youm was informed of the most important items in the draft law, and among them was the stipulation that the Churches' authorities will have the power to send requests for church construction to local governors. The governor must respond within 60 days, and failure to respond will be taken as approval for construction to begin. Refusals from the governor must be backed up with solid reason, and the church will have the right to make an appeal on the governor's decision before the State Council.
Church sources said that the Churches referred to construction law in the writing of their drafted law, and the draft therefore forbids construction to take place on arable lands, historical sites or railway tracks, and stipulates that the land must be owned by the church.
Mansaf Suleiman, the legal advisor for the Coptic Church, said that a meeting was held last Wednesday between Bishop Paul of Tanta, representative of the Evangelical church Rev'd. Dawood Ibrahim, Chancellor Gameel Haleem of the Catholic Church and member of the House of Representatives Suzi Nashid, in order to discuss this eighth draft of the law before sending it to Chancellor Agaty.
Dr Emad Gad, a member of the State Council, has called for the draft to be put to parliament swiftly so that it can be discussed during the first legislative term, as stipulated in the Constitution. He stressed the necessity for church construction to be made easier, without yet more difficult conditions placed on it, and for the replacement of the conditions instated by Interior Minister Undersecretary Al-Ezaby Pasha in 1934.
A leader of the Evangelical Church in Egypt, Reverend Rafat Fikry, has stated that the issue of legal permission for the renovation and building of churches effects all denominations, and needs a shift in political will in order for change to be seen.
Speaking to presenter Amr Abdel Hameed on Saturday evening during Sky News Arabic's program, "Talk of Cairo", Fikry commended President Sisi's interest in the affairs of the Church, which have included his attending Christmas mass at the Coptic Cathedral of Alexandria and his efforts to protect Coptic festivals and liturgy.
Through this, he indicated, there are the signs of political will to support the Church on the part of the State. What is needed now, he said, is a shift in the attitude of society towards Copts.
He called on the State Council to promptly issue a new law on the renovation and construction of churches.
Edited translation from Al-Masry Al-Youm