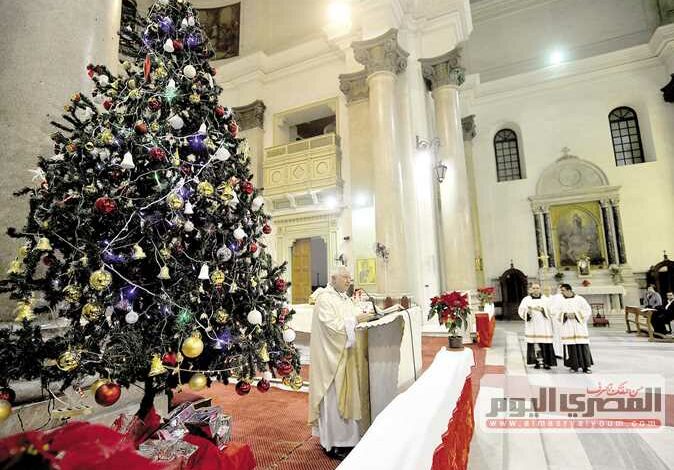 Egypt's churches prepared for Christmas celebrations by holding masses, hymns, and ringing bells in the parishes as well as sending invitations, all while being adorned with candles and lights.
The dates for Christmas celebrations differ between the eastern and western churches in Egypt, by a difference of 13 days.
The Coptic Orthodox Church celebrates according to the Eastern calendar in January 7, while the Catholic churches celebrate the holiday according to the Western calendar on December 24.
These include the Coptic Catholic Church, the Maron Catholic Church, the Greek Orthodox Church, and the Anglican Episcopal Church.
Pope Tawadros, Pope of Alexandria and Patriarch of the See of St. Mark, said in his last sermon: "Our brothers in the Christian churches celebrate Christmas according to the Western calendar. This difference is not related to faith, belief, or occasion."
The reason for the difference in the date of the celebration between the Eastern and Western Churches, according to the Orthodox Church website of Anba Takla, is that the exact date for the same day as the birth of Christ is the 29th of Kiahk, when the Gregorian year changes, while the Coptic year is fixed and does not change.
The Orthodox Church announced the arrangements for the celebration, as Pope Tawadros II will preside over the Christmas Mass in the New Administrative Capital, in January 6, provided that his receptions for well-wishers will take place at the Papal Headquarters in Cairo, on the morning of the feast corresponding to January 7.
Catholic Patriarch Anba Ibrahim Isaac will preside over the Christmas Mass this evening at the Virgin Mary Cathedral in Nasr City.
The Archbishop of the Alexandria Region of the Anglican Episcopal Church Sami Fawzy will preside over the Mass on the evening of the same day at the Saints Cathedral in Zamalek.
And the Greek Orthodox Church prepares to celebrate tomorrow, in the Church of St. Nicholas in the Patriarchal Headquarters in al-Hamzawi district in Cairo.