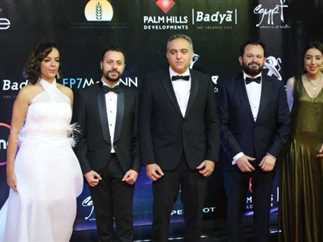 The Cairo International Film Festival (CIFF) announced that it has received accreditation from the Academy of Motion Picture Arts and Sciences, which qualifies its films to compete for the Academy Awards beginning in November 2020.
Cairo's festival is now one of a number of international festivals that qualify to compete in the Oscars, including the Berlin, Cannes and Venice film festivals, with the best film in the "Cinema al-Ghad" (Cinema of Tomorrow) competition eligible to compete in the category for best short film (feature or animated) during next year's Academy Awards.
Commercial release is not necessary for a film to compete in the Academy Awards, provided that it complies with the rules of the Academy.
At the opening of the second edition of Cairo Film Days on Friday morning, producer Mohamed Hefzy commented: "We are very proud to join the list of Oscar-eligible festivals, and we thank the Academy of Motion Picture Arts and Sciences for supporting the festival."
The decision represents recognition of the festival's quality and its annual film program, which highlights innovative films produced by internationally renowned filmmakers, he added.
The American Academy of Motion Picture Arts and Sciences announced in July that CIFF Chairman and producer Mohamed Hefzy, actress "Youssra" and director Amr Salama will join members of the Oscar Committee during its next. 
Cairo Film Industry is a platform that brings together film industry professionals from around the world to take part in lectures, panel discussions and events designed to shed light on filmmakers in the Arab world.
During its 41st edition, the Cairo Film Festival is set to screen 153 films representing 63 different countries, including 84 movies to be screened as part of the MENA premiere.
The opening ceremony of the festival last Wednesday featured Martin Scorsese's "The Irishman" (2019), with British director Terry Gilliam receiving the Faten Hamama Honorary Award and actress Menna Shalaby receiving the Faten Hamama Excellence Award. 
Edited translation from Al-Masry Al-Youm