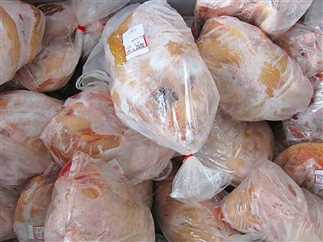 Only two chickens are allowed for purchase by  citizens, in order to provide the largest possible number of Brazilian chickens, Ali Hassan, Director General of Oversight at the Fayoum Supply Directorate, said.
The Ministry of Supply and Internal Trade in Egypt has announced the sale of frozen Brazilian poultry in the company's branches in the Fayoum Governorate, at a price of LE65 per kilo.
For his part, Magdy Hussein, General Manager of the Egyptian Company for Wholesale Trade in Fayoum Governorate, said that between 15 and 20 boxes of Brazilian chicken are offered in the company's nine retail branches in Fayoum.
The weight of one chicken ranges between 1,000 grand and 1,300 grams.
Hussein added that all basic commodities are available at the outlets, including oil, sugar and rice, in addition to 32 types of subsidized commodities to be disbursed through subsidy cards.
He explained, during an inspection tour of the al-Salam wholesale store in Fayoum Governorate, that the Egyptian Company for Wholesale Trade has 15 wholesale branches and nine retail and hyper branches in Fayoum Governorate.
He said that the Fayoum Governorate has 2,300,000 citizens registered on 870,000 ration cards at 1,500 groceries.
The total quantities of rice pumped into the governorate range from 800 to 900 tons, hr added.
He referred to large quantities of oil in stores that are sufficient to cover past the month of Ramadan.
Hussein said that commodity coupons are provided at between LE50 and LE200, and are distributed to the most needy groups.
Financially able people can purchase the coupons from the ministry and distribute it to the neediest.