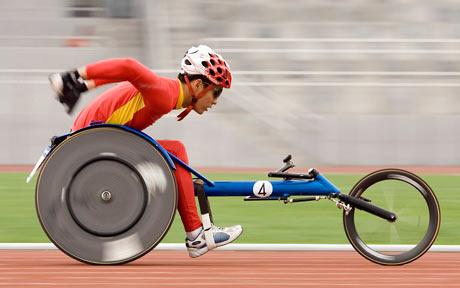 Broken sidewalks, buildings with high stairs, a lack of ramps or elevators and poor transportation services are not the only obstacles facing Egyptians with disabilities in their country.
Since Egypt first participated in the Olympics in 1928, it has earned a total of 26 medals. Since its first participation in the Paralympics, in 1972, it has won 128 medals and a worldwide ranking of 29. But while an Egyptian gold medalist in the Olympics receives huge media attention and around LE1 million from Egypt for their efforts, an Egyptian Paralympic gold medalist is awarded just LE200,000 and receives minimal attention, if any.
With a delegation of 36 in the Beijing Paralympics, Egyptian Paralympians returned with four gold, four silver and four bronze medals.
Al-Emary Farouq, minister of sport, said at an event to celebrate the Paralympic team before their departure to London, "Previously our players have had grave injustices fall upon them, especially concerning the rewards that they receive. So, I will lift this injustice by increasing the value of rewards for each medal they receive in the course of London to be equal to their regular Olympic counterparts."
This year, Egypt's Olympic team returned from London with only two medals, a silver and a bronze.
As Shaaban Dessouky, a Paralympic bronze medalist in power lifting in Beijing says, "We stand for the same national anthem and the same flag, but we do not get the same recognition as the regular Olympic athletes do."
The Paralympics take place immediately after the Olympics, as part of the largest international sporting event every four years. Participants in the Paralympics are athletes with physical disabilities. The average Paralympics athlete prepares twice as much, says Maher Ezzat, the Egyptian Paralympics power lifting team's head coach.
"The effort placed into preparing an athlete with a physical disabilities is twofold," he says. "While a regular athlete is self-dependent, the athlete with physical disabilities may need physical effort as well as guidance in preparing."
This year, on 29 August when the Paralympic games begin, Egypt will be participating with 40 athletes in four sports: athletics, table tennis, power lifting, and sitting volleyball. Within Paralympic history, Egypt has proven to be particularly strong in athletics and power lifting.
Dessouky, who was disabled as a child from polio, says the Paralympic athlete has financial burdens that arise from their medical conditions and their need for special equipment.
The burdens however, are not only financial and physical. Dessouky has three children, and training often keeps him away from his children for long periods of time.
As the games are steadily growing to become the second largest worldwide sporting event, Paralympians around the world have witnessed injustices and a lack of interest in their performances. Recently, in Great Britain, a debate arose over a declaration by the Royal Mail that Olympic medalists would have stamps made in recognition of their success while Paralympics medalists would not. The declaration was later retracted.
Currently, the Paralympic games include categories for people with visual impairments, physical disabilities, amputations, Cerebral Palsy, spinal cord injuries and other physical disabilities, such as Muscular Dystrophy.
The first official Paralympics began in 1960 with only 400 athletes. Competition was originally only for athletes in wheelchairs. Gradually, participation increased, and today, the London 2012 Paralympic Games are expecting 4,200 participants.
While athletes like Dessouky and his peers bring back inspirational stories of perseverance and hard work in overcoming obstacles in order to reach a dream, their hard work is often ignored.
This year, power lifters will have to break four world records held by Egyptians Fatma Omar, Heba Ahmed, Sherif Othmann and Metwaly Ibrahim. Dessouky says although every year Egyptian Paralympic athletes come back with these results, they get very minimal recognition.
This lack of recognition means less support and more personal effort on their part to prepare. According to Dessouky, athletes are still prepared to endure these burdens — just to be able to raise their country's flag.
This piece was originally published in Egypt Independent's weekly print edition.