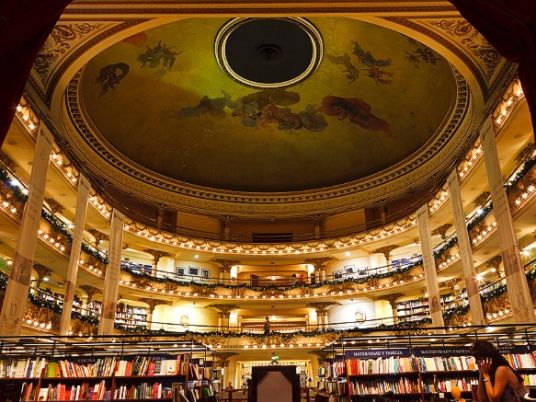 No glamorous chandeliers, no extravagant facade — to find the most beautiful bookshop in China, travelers just have to follow the yellow-striped road to an underground parking lot.
Before Librairie Avant-Garde owner Qian Xiaohua, 52, obtained the 4,000-square-meter underground space beneath Wutaishan Stadium in Nanjing in 1999, it was a government car park and, earlier, a bomb shelter.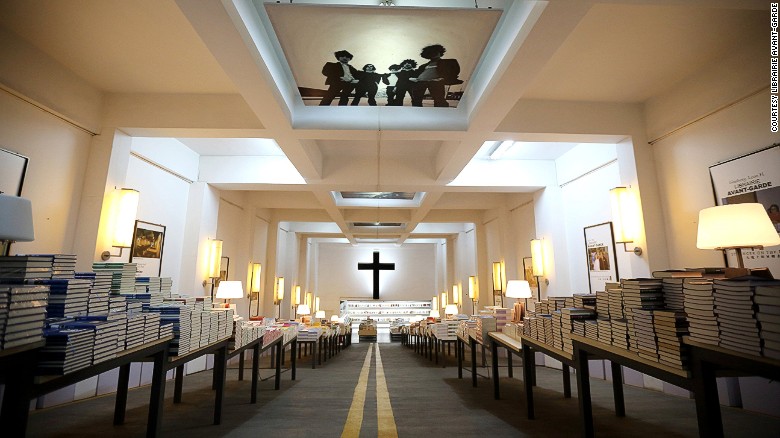 The most beautiful bookshop in China is hidden in an underground parking lot."Here in Librairie Avant-Garde, reading is our religion and this place is the heaven for readers," says Zhang Xing, manager of the shop beneath Wutaichan Stadium in Nanjing.
"We chose this car park because it borders Nanjing University — it has become the second library for university students," says Qian. "There is an old saying in Chinese — turn something rotten into a miracle."
Instead of a shelf for best-selling books, visitors are welcomed by a replica of Rodin's "The Thinker" sculpture.
The cashier counter is built from thousands of old books.
"You walk up the slope that still retains its yellow traffic stripes on the ground between two rows of shelves," says Qian, as though he'd just opened the shop a week ago.
"After that, look back and you'll see a big shining cross that shines upon you, as well as many others that came here before you."
Reading as religion

Qian converted to Christianity when he quit a job with the provincial government to open the first Librairie Avant-Garde, across the street from the St. Paul Cathedral.
It was a tiny store — 17 square meters.
"I listened to the hymns coming from the church every day and I felt so peaceful," says Qian. "Then I became a Christian."
That explains the large crosses in all of shop's branches.
But it's not simple Christian faith Qian is promoting.
"We aim to be a humanities bookstore as well as a religious store," says Zhang Xing, manager of the Wutaichan shop.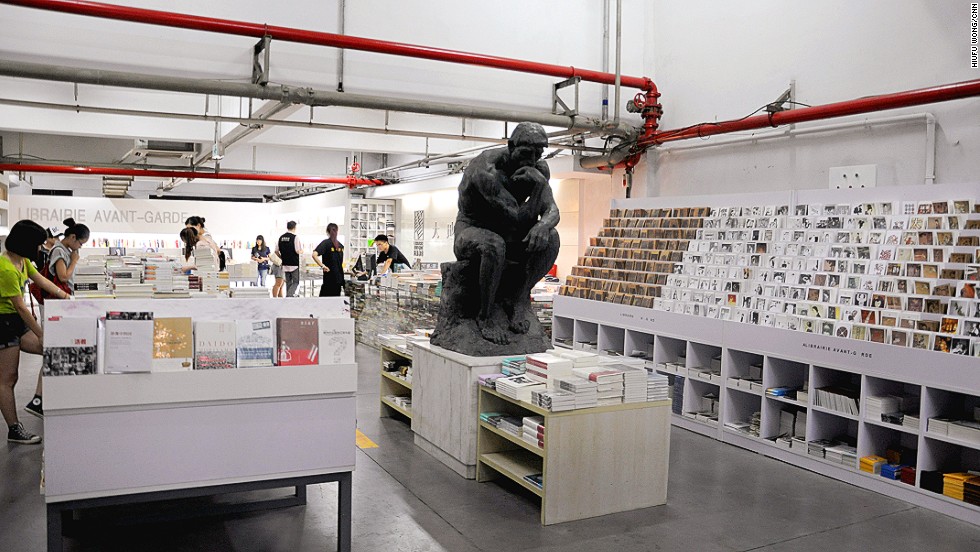 You may not find best-sellers or latest releases here, but the shop says it has the widest range of humanities titles in China.
"Here in Librairie Avant-Garde, reading is our religion and this place is the heaven for book lovers."
The main hall of the bookstore serves as a forum for talks and concerts.
It also houses a homey coffee shop, permanent exhibition space for beautiful book designs and a retail area for creative works by Nanjingers.
Qian's favorite artworks hang from the ceiling.
Pillars in the store are etched with famous verses and poems.
Book shops reflect city's well being

The beauty of Qian's bookstore lies in its unique way of operating.
Qian sees his shop as a kind of public library.
Two long reading tables and more than 300 seats are available for readers who are encouraged to stay and read in the shop's main hall.
"I come here very often because they stock a wide range of books and they don't discriminate against readers who just want to read," says Robin Wang, a recent graduate from a local university.
She says she came to the store twice a week during her years in the university.
"A good bookshop should provide space, vision and nurture the city with its humanitarian spirit," says Qian. "It's a place for people to have dreams in the city."
As Chinese cities undergo rapid development, and e-books chip away at the market for traditional books, many independent book stores are facing financial difficulties across the country.
"Independent book shops represent the well being of the city," says Qian. "When a city is losing its bookshops, it's actually losing something in its soul."
"Librairie Avant-Garde has unintentionally become the city's tourist spot," says Qian. "Tourists come here to observe the culture of a city, to exchange cultures and it's also become a new meeting spot in Nanjing."
Librairie Avant-Garde is expanding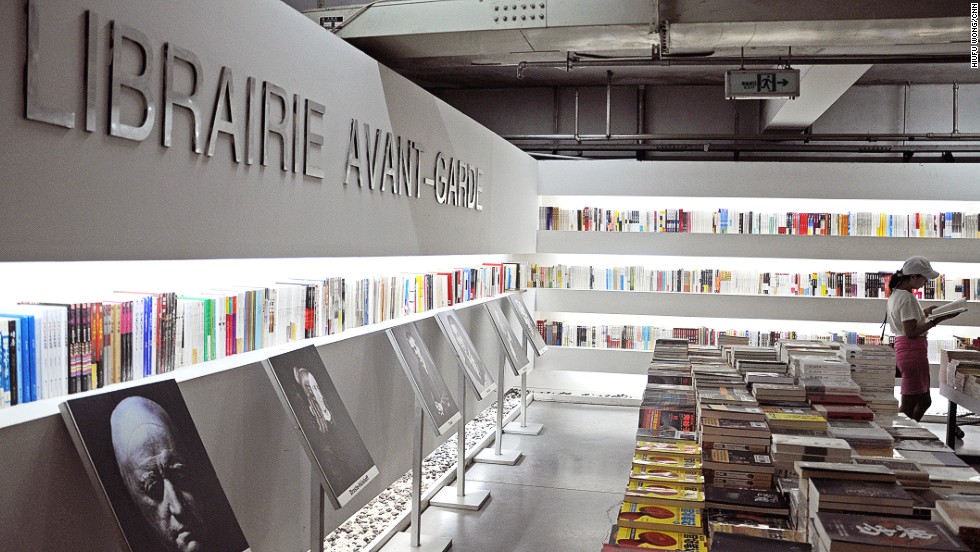 "Avant-garde people are the most forward, most innovative, with a strong opinion and are not easily influenced," says owner Qian.
Because of its much appreciated style, Librairie Avant-Garde has expanded — there are now eight stores around Nanjing and three outside the city.
Most of the local branches are housed in museums or historic attraction sites.
The three shops outside Nanjing are each housed in interesting locations.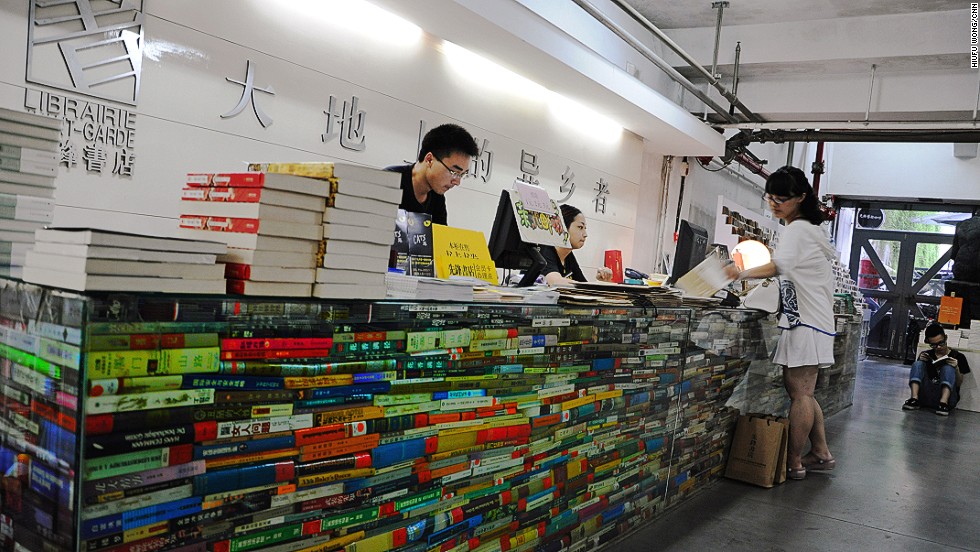 Being a staffer is no small task."Some are poets, some are writers, but we all love books," says manager Zhang. "We always kid that if all of us gather our own collections of books, we can open another book shop. We have a 30-minute staff meeting every morning — to share a movie we saw, a book we read or other things that inspire us."
One is in Huishan, a preserved ancient town near Nanjing.
Another is located in an ancient Chinese shrine on Bishan Mountain, a six-hour drive from Nanjing.
The latest opened in the middle of the mountain of Eshan and is housed in a She-style structure. ("She" is the ethnic minority in the region.)
Librairie Avant-Garde, 173 Guangzhou lu (next to Wutaishan Stadium), Gulou District, Nanjing; +86 25 8371 1455; daily from 10 a.m.-9 p.m.