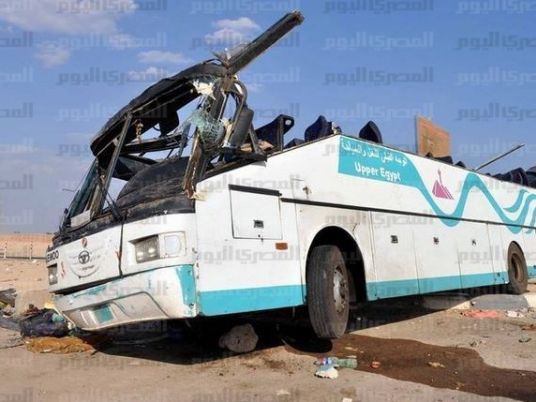 Twenty-five people were injured on Sunday when a tourist bus collided with a lorry at the Gerf Hussein intersection south of Egypt's Aswan.
Those injured in the accident included 21 Sudanese citizens, three Palestinians, and one Egyptian. Twelve ambulances were immediately moved to the scene to transfer the injured to the New al-Sadaqa Hospital in Aswan.
Meanwhile, a bus caught fire on Abu Simbel Road, but the incident did not result in any casualties.
Egypt's Central Agency for Public Mobilization and Statistics (CAPMAS) reported in 2019 that vehicle accidents had declined by 23.6 percent, recording 8,480 accidents in 2018 compared to 11,089 accidents in 2017 and blaming neglectful driving or other human errors on the majority of crashes.
CAPMAS credited the decreasing rates to improved roads across the country, but accidents, especially those involving microbuses, remain common.
Last week, five people were killed and 15 others were injured in a collision involving a microbus and two private vehicles on the Sohag-Red Sea desert road.
On January 15th, 17 people were injured and four people were killed in a microbus crash near Egypt's 15th of May City. The bus was carrying 14 female graduates from Minya University's Faculty of Medicine on their way from Minya to Cairo to attend a last-minute, mandatory training program in the capital.
The tragedy sparked outrage on social media and accusations that the women had been threatened by university officials with dismissal from their current medical departments if they failed to attend the training program, prompting Egypt's Supreme Medical Syndicate to transfer the supervising doctors responsible to an investigative committee.
The Syndicate also announced that it would file a suit against Egypt's Ministry of Health calling for fair compensation for the victims of the crash and their families.
Edited translation from Al-Masry Al-Youm