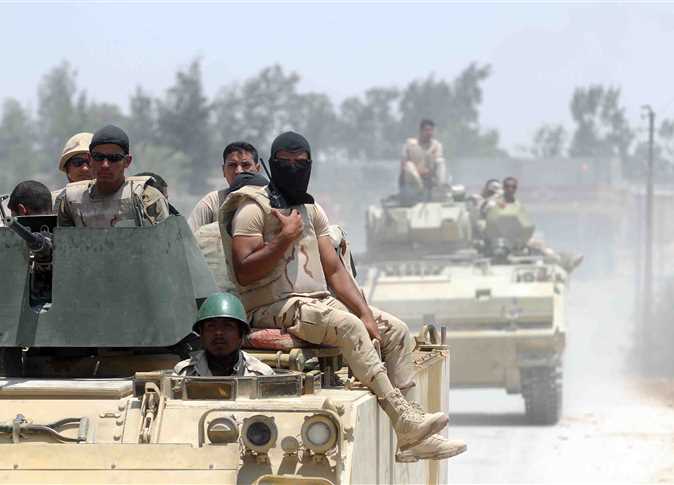 Egypt's General Command of the Armed Forces said on Monday that army and police forces have eliminated 83 takfiri elements and arrested 61 others during the period from September 28 until Monday.
A statement by the General Command of the Armed Forces said this comes as part of efforts to combat terrorism at all of Egypt's strategic borders.
The Air Force targeted and destroyed 14 hideouts and shelters used by terrorist elements and destroyed 115 four-wheel drive vehicles; nine of which were destroyed in the northeast direction, 52 on the western strategic direction, and 54 on the southern strategic direction.
These operations successfully eliminated 83 takfiri individuals found in possession of 65 weapons of various types, 78 weapon magazines, 20 mortar shells, various ammunition types, explosive devices, solar units and communication devices in North and central Sinai.
The forces also succeeded in discovering and detonating 376 improvised explosive devices planted to target routes of movement in operation areas.
Two tunnel entrances were found and destroyed in cooperation with border guards, while 33 cars and 93 motorcycles without license plates used by the terrorists were seized and destroyed.
A large number of shelters containing food and drinks for the terrorist elements were also destroyed.
The General Command added that Border Guard forces in all strategic directions succeeded in seizing 13 rifles of different types, 48 magazines and pistols, and 3,045 rounds of various bullets, as well as large quantities of narcotics.
Egypt has been battling a wave of terrorism which has killed hundreds of security forces and personnel since the army toppled late President Mohamed Morsi in 2013, in response to mass protests against his one-year rule.
Edited translation from Al-Masry Al-Youm