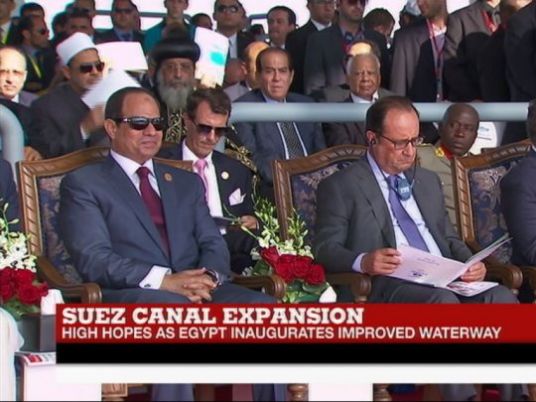 Egypt witnessed on Thursday, August 6, 2015, the inauguration ceremony of the new Suez Canal project, a year after the announcement of the project. The new project is an expansion to the main Suez Canal, which involved digging 37 kilometers of dry sand.
Al-Masry Al-Youm has prepared a comparison between the inauguration ceremony of the original Suez Canal under Khedive Ismail in 1869 and Thursday's ceremony.
The cost of the ceremony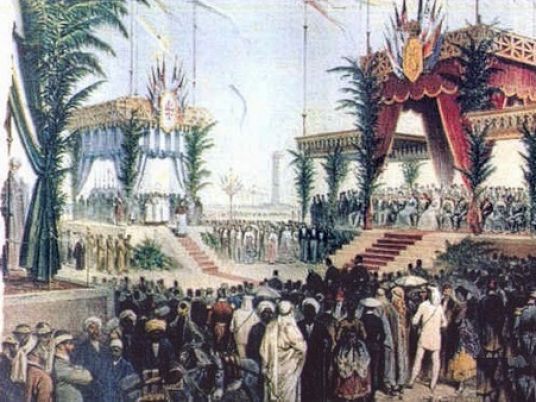 Under Khedive Ismail the ceremony's costs amounted to LE400,000, which was considered extravagant, after which Egypt suffered of economic turmoil that led to bankruptcy, according to the website of King Farouk of Egypt. Ismail was forced to sell Egypt's share in the Suez Canal to pay the debts. The US dollar was equal to 14 Egyptian piasters under Ismail, which means in current relation to the US dollar the ceremony cost LE10 million.
The new Suez Canal inauguration ceremony cost the state US$30,000,000, three folds the cost of the inauguration ceremony under Ismail. The Egyptian government did not though bear the cost of the ceremony which was funded by Egyptian and foreign companies.
The ceremony's timespan
Under Ismail, the inauguration took place over two days, 17 and 18 November 1869.
The new Suez Canal project inauguration ceremony took place on August 6, 2015, divided on two parts, one in daytime from 1 pm to 5 pm and the other at night from 7 pm to 10 pm. The day was considered an official vacation for the public sector.
Attendees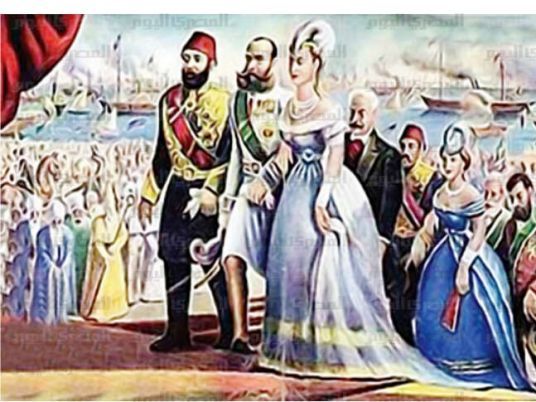 In the first inauguration, 100,000 Egyptians and foreigners attended, according to Middle East News Agency, including Empress Eugenie of France, Crown Prince of the Netherlands, Emperor of Austria, and the Crown Prince of Russia. The new waterway inauguration ceremony was attended by Russian President Vladimir Putin, French President Francois Hollande, and other official representatives for about 60 countries around the world.
NGOs and the public were allowed to attend the ceremony in a separate partition.
Celebration platforms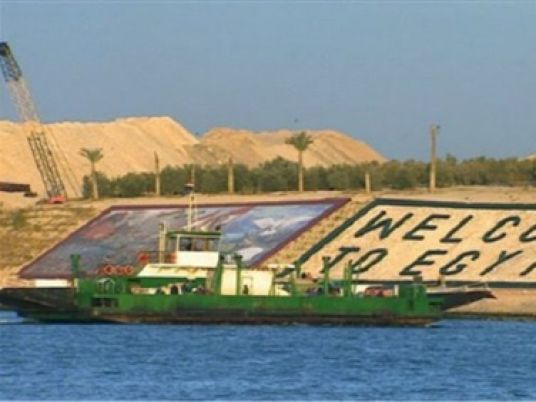 Ismail's inauguration ceremony witnessed three platforms: one for presidents, one for the Islamic preachers and one for Church representatives. The three platforms were covered with silk and decorated with flags, and scattered roses and scented herbs.
The new ceremony witnessed as well three stages: one for presidents and foreign delegations, and the other two for governors and senior Egyptian officials.
Edited translation from Al-Masry Al-Youm