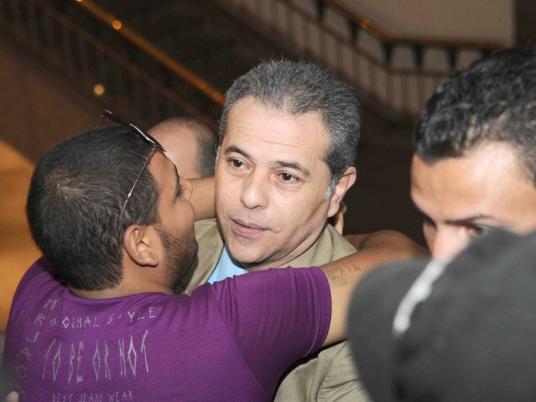 A number of people in Tawfiq Okasha's Daqahlia constituency are gathering signatures on a petition condenming the controversial MP for his recent dinner meeting with the outgoing Israeli ambassador to Cairo.
Okasha put himself in the spotlight recently by hosting Haim Koren at his Daqahlia home, breaking a long-standing embargo on Egyptian officials meeting witih Israeli officials unless part of government-sanctioned negotiations.
Taking to the streets of the city of Nabarouh on Sunday and chanting slogans against Okasha, protesters condemned their MP, calling him a "traitor" and chanting "Down with Israel!"
The size of the protests cannot be confirmed, but some residents said they were seeking signatures condemning the MP, with a view to "withdrawing confidence" from their elected representative.
"So far, we have printed out 10,000 forms to withdraw confidence from Okasha, and we are aiming for 100,000 copies to surpass the number of electoral votes he won," said Mohamed Rihan, one of the campaign's coordinators.
"Okasha asked residents to stage a protest outside parliament in solidarity with him, but not a single one is standing by him," said al-Sayyed Abdel Hakim, another resident of Nabarouh.
Some protesters say they will meet with Daqahlia parliamentarians on Wednesday to urge them to vote against any measures or bills proposed by Okasha.
Earlier on Sunday, parliaments ordered an internal investigation of Okasha over his breach of a traditional parliamentary boycott of Israel in place since the two countries signed a peace treaty in 1979.
Edited translation from Al-Masry Al-Youm