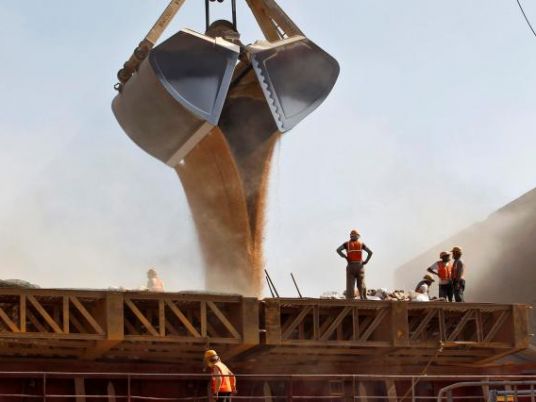 The Egyptian Minister of Supply and Internal Trade, Ali al-Meselhy announced Monday that wheat contracts with Russia and Ukraine are still in place.
Moscow announced that all contracted shipments would arrive to Egypt, as well as the arrival of a shipment from Ukraine, he said.
During an interview with Ahmed Moussa's TV show "Ala Massoulity" (By My Responsibility) on the privately-owned satellite channel Sada al-Balad, Meselhy added that "There are no sanctions on wheat or energy due to the sensitivity of the situation. Russia and Ukraine are trying to fulfill their contracts on this matter."
The war between Russia and Ukraine has impacted prices of wheat globally, he said, as well as the prices of other strategic commodities.
Meselhy indicated that his ministry is ready with all strategic precautions to receive the month of Ramadan, which is expected in April.
"The wheat reserve now reaches four months, with a total of 3.2 million tons, and the ministry is scheduled to receive the local crop within 40 days, with a total of 3.6 million acres of cultivated area," he assured, noting that the ministry aims to receive 5.5 million tons of the local wheat crop.
Meselhy explained that the current year witnessed an increase in the cultivated areas of wheat, with a total of 250,000 feddans, thanks to several projects, including Toshka and the New Delta.
The state aims to establish 60 field silos, each with a capacity of 5,000 tons of wheat.
He added that the state reduces the amount of imported wheat with the approach of harvesting the local crop, to provide spaces for storing and preserving it.
Meselhy pointed out that 54 percent of the Egyptian society lives on agricultural revenues, which is one of the most important areas of sustainable development.
Egypt relies on 14 sources to import wheat, including America, France, Romania, Ukraine and Russia, he added, noting that the United States offers hard wheat at high prices compared to other wheat.
The import rates of wheat during the current year amounted to 29 percent from Russia, 23 percent from Ukraine, 43 percent from Romania and the rest from France, he said, pointing to the state's targeting to increase the wheat-cultivated area during the next three years by an area of one million feddans, providing 1.5 tons of wheat.