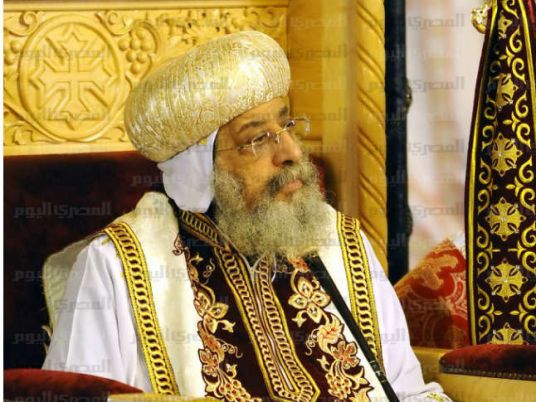 A number of Coptic activists have called on the Coptic Orthodox Church to steer clear of politics and focus on its spiritual role instead, in a statement issued on Monday.
The statement was issued in response to the church's calls for supporters of President Abdel Fatah al-Sisi to mobilize for his visit to New York.
Sisi arrived in New York on Monday to much fanfare, after the Evangelical Church in Cairo sent a delegation to New York, and urged Egyptian nationals in the US to support the president.
Egypt's Coptic Orthodox Church also sent senior clerics to urge followers in the US to welcome Sisi and rally in his support.
An open letter, signed by over 84 Coptic activists, including doctors, professors and activists, condemned the 'mobilization efforts' exerted by the Egyptian churches to show support of Sisi during his visit to New York to attend the 71st session of the UN General Assembly.
The list of signatories included Ishak Ibrahim, a researcher at the Egyptian Initiative for Personal Rights as well as psychiatrist and a cognitive behavioral therapist specialized in the rehabilitation of victims of torture and sexual abuse Sally Toma, as well as human rights activist Sherif Azer among others.
"We should never accept the church's use of mobilization methods when dealing with Egypt's Coptic citizens," the statement read.
"We affirm our belief in the freedom of speech and expression for everyone inside a civilian political framework that is not guided by religious institutions," the statement added.
The letter stressed its rejection of the Church's involvement in political mobilization, whether it was in support of the president or against it, saying that it "represents a departure from democracy."
Copts, who make up about 10 percent of Egypt's population and are the Middle East's biggest Christian community, have long complained of discrimination under successive Egyptian leaders. The church has supported Sisi's rise to power, seeing he'd provide security for their community following the ousting of Islamist President Mohamed Mursi.
Despite the close relationship between the current regime and the church, Copts in Upper Egypt still suffer from discrimination and sectarianism, according to the statement.
The Egyptian Initiative for Personal Rights has recorded at least 77 cases of sectarian violence in the Southern Minya province from the 2011 Uprising until Jan. 2016, including attacks on churches, and other religious buildings and schools.
Suspects in such incidents were mostly arrested and then released shortly afterwards without proper investigation. Many cases were destined for what is known as "reconciliation sessions" which take place outside the law.
"We warn of the gravity of involving religious institutions in general, and churches specifically, in the political equation… We also hold the regime and churches accountable of the implications faced by ordinary citizens Coptic Christians due to the church's involvement in politics," the statement added.
The statement called on civil society to deal with the concerns and problems of Christian citizens in "a civil, democratic framework", emphasizing that a solution couldn't be reached without collective participation of the community.
A number of international visits by Sisi since he took office in 2014 have been celebrated and marred by protests simultaneously. During Sisi's visit to the UK in 2015, large demonstrations took place by his supporters and opponents alike.
Similarly, his trip to New York in September last year to attend the 70th session of the UN General Assembly elicited similar reactions from Egyptians residing in the US, as he traveled with an entourage of different media personalities.
His trip to Germany in June 2015 also instigated rivalry among his supporters and opponents there.